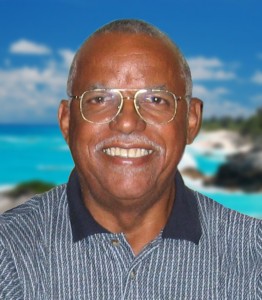 Veteran Bermudian multi-media artist Al Seymour Sr. is to host a special exhibition of a wide variety of his work at The Bermuda Masterworks Gallery on Friday, February 23rd from 5:30pm to 7pm.
The date was chosen to celebrate Mr. Seymour's 85th birthday.
Entitled "Reflections of Life's Journey", the exhibition will be open to the public and will run for two weeks.
It will feature work by Mr. Seymour in pen and ink, oils, water colours and charcoal sketches. The exhibition is the brainchild of Mr. Seymour's daughter Lisa Wilson, an accomplished artist herself, with help from her artist and film-maker brother Al Seymour Junior.
Mr. Seymour Sr. is one of five siblings, who all exhibited artistic qualities. He lived close to the Cecil W. Smith funeral home and spent many years working there as an apprentice, all the while exploring his passion for expression in different media, including pencil and charcoal sketching, water colours, oils and chalk on blackboard.
Mr. Seymour attended the Central School, now known as Victor Scott. He designed the school crest, with the motto "Look Upward", which is still in the head office today.
Mr. Seymour Sr.'s passion extended across the arts. In 1953, he created a comic book character called "Captain Cosmic", which featured a character reminiscent of Flash Gordon from the 1936 cinema serials, cinema being a passion of Mr. Seymour's.
Having bought an 8mm movie camera, he and his brothers Keith and Stanley, and his sister Marilyn, produced three short silent movies in the mid-1950s. "The Trap", "The Manhunter" and "The Bicycle Thief" proved enormously popular.
Mr. Seymour taught Art and Religious Studies at the Prospect Boys School [as it was called at the time]. In 1962, he was appointed Chief Announcer for ZFB radio, beginning a 25-year career in radio, television and print media journalism. Many of his works were woven into sponsor logos, courtroom sketches and sports cartoons.
Throughout his life, Mr. Seymour never stopped painting and drawing, his forté being portraiture. For a time, his artistic endeavours became his career, as a portrait artist at the Grotto Bay Hotel.
In the late 1990s, he published a Bermuda-based science fiction comic strip serial in the Bermuda Sun entitled 'The Blue Manta'. The strip was adapted as an animated cartoon produced by his son and daughter in 2000, the first animated film produced in Bermuda. Mr. Seymour was commissioned to produce artwork for the classic documentary "Freedom Quest", produced by James Ziral.
Now many years retired, Mr. Seymour has participated in numerous art shows and exhibitions in Bermuda. He also returned to the classroom during the late 1990s, teaching art in the Community Education Programme.
The exhibition at The Masterworks Gallery in the Botanical Gardens is a tribute to Mr. Seymour's life and his contribution to the many facets of art in Bermuda. The public is urged to attend to learn more about the work of one of Bermuda's greatest living artists.

Read More About