The Bermuda National Gallery [BNG] is hosting a number of art activities for families and children in the community during the school mid-term break.
A spokesperson said, "BNG values family time through creative expressions and art-making. The 7-Days of Art Activities will be from April 2 – 8, 2018."
Monday, April 2: Art Talk @BNG. Visit the Gallery and listen to
Ruth E. Thomas [Bermuda's first Cultural Officer] speak about how families spent time growing up in Bermuda during the 1930s, 40s and 50s. 11:00AM; Free; limited space.
Tuesday, April 3: BNG Scavenger Art Hunt. Spend time with your family and friends exploring the exhibition "The Power of Art". Free to all children. Every child receives a gift.
Wednesday, April 4: BNG Early Years Family Workshop for Children ages 2 – 4. Explore photography, the artworks of Richard Clive Saunders and engage in a portraiture family game. 10:30AM; Free to all families; children must be accompanied by an adult; limited space. RSVP: education@bng.bm / 295-9428
Thursday, April 5: Family Portraits @BNG. As we celebrate Family Week at the Gallery, we invite families to receive a professional family portrait taken by Maetog Photography. 11:00AM – 12:00PM; Free to all families; limited space. Please RSVP in advance to education@bng.bm / 295-9428. *BNG Weekly Public Art Tour of current exhibitions 10:00AM
Friday, April 6: "Paint a Smile" Family Workshop hosted by BNG Youth Arts Council. Join us at Queen Elizabeth Park for a creative painting session. All materials provided. Please bring your own blanket to sit on, art smock and snacks. 12:00PM – 1:00PM; Free to all families; limited space. RSVP: education@bng.bm / 295-9428. Art supplies sponsored by Gorhams Limited.
Saturday, April 7: Visit the BNG Sculptures in Queen Elizabeth Park in the City of Hamilton and post a photo of your favourite sculpture to Instagram, Snapchat or Facebook using hashtag #BNG.
Sunday, April 8: Bermuda National Gallery in collaboration with #WalkTogetherBermuda, inspired by Nelson Mandela's Long walk to Freedom, is a community walk to engage with one another & break down barriers. 2:00PM – 4:00PM; Free; Gathering for the walk takes place at Victoria Park, Hamilton.
"Families are also invited to visit the Gallery anytime during the month of April to view the current BNG exhibitions, including "The Power of Art", "Peter Woolcock: A New Bestiary for Children" and "Shepard Fairey: rebel with a cause".
"To participate, all BNG family activities require the cost of admission unless stated otherwise. Regular admission is $5.00; Free for all children, students, seniors, BNG Members and NARM Members.
"BNG is located at City Hall & Arts Centre, second floor, Hamilton. Gallery Hours are Monday to Friday, 10.00am to 4.00pm and Saturday 10.00am to 2.00pm.
F"or more information about this event, please contact Ms. Dany Pen at education@bng.bm or on 295-9428."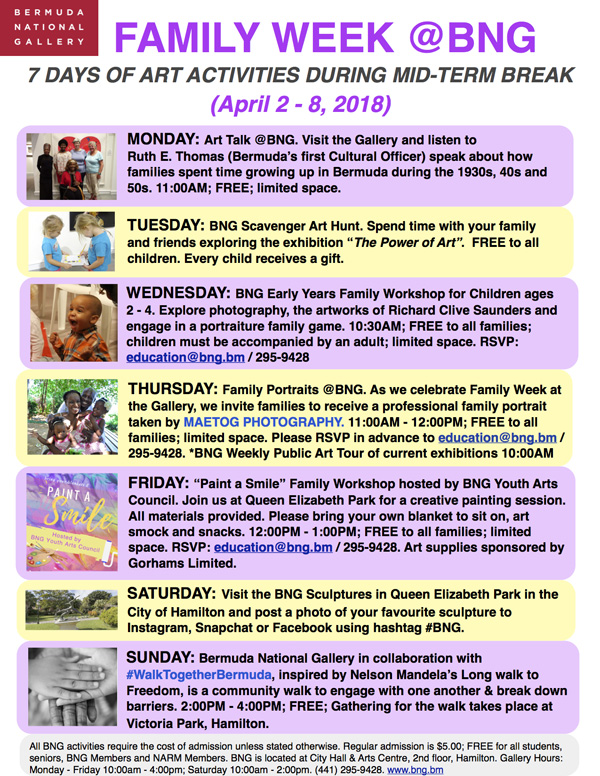 Read More About
Category: All, Entertainment