One of the Island's leading insurance companies has appointed a new wellness coordinator to help motivate, inspire, and educate people about healthy living.
Katie Titterton, 30, turned from law to health and has just joined Colonial where she will work closely with members of the firm's wellness programme, Zest [here].
'I was originally working in law firms, in a very stressful environment," she said. "My gym membership and yoga classes were the only things keeping me sane, so I began to wonder how I could make a career out of health and wellness. I did some research and decided to quit my job to study full time to become a Certified International Health Coach.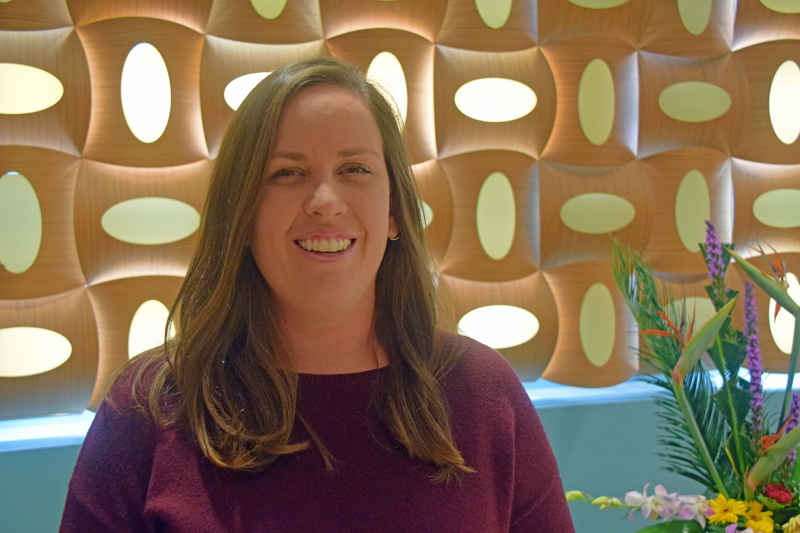 "I spent a year studying different nutritional theories, human anatomy, coaching methods, and learning from some of the best and brightest minds in wellness. In my time off, I also obtained my 200 Registered Yoga Teacher certification, and began to teach at local charities.
"I even spearheaded the first Goat Yoga programme on the Island; which is essentially yoga with goats. The reasoning behind this is that you get a different kind of stress release when you are with animals, and participants were guaranteed a laugh and a cuddle."
Ms Titterton said the biggest challenges facing healthy living were consistency and making sure people's goals were realistic. "I want to help people achieve this way of thinking and help them to make long-term sustainable change to their lifestyle.
"I bring a lot to the table. In my time off I've tried everything; baking wedding cakes and breads, going vegan, teaching swimming lessons, babysitting, blogging, food photography, marketing, and even event coordinating to see what I was good at, and maybe not so good at. I am very open to trying new things, and I love meeting new people.
"I am also incredibly passionate about this role and this path. Helping people is important work, and to be able to do it in this capacity with the Colonial platform is a dream come true."
She added: "Health and wellness has been an established field for quite some time, however it seems to only now be gaining popularity. People are incredibly concerned about their health and wellbeing, from the way they are feeding themselves, to the way they are exercising.
"The only problem with the growing popularity is the amount of information available. It is so easy to get lost in it all and that's where a programme like Zest Wellness comes in. We are completely personalized, and as a Certified International Health Coach, part of my job is to help clients navigate all the information and to find their own truth."
Naz Farrow, Colonial's CEO, said she was delighted to welcome Ms Titterton to the firm, adding: "It is a well-known fact that Bermuda faces some big health challenges and one way of addressing those is through greater education and awareness of things that can be done to improve our lifestyles. I am sure Katie will be an outstanding addition to our team."

Read More About