The Bermuda End-to-End held its 2018 Kick-Off Reception on February 21 at the Hamilton Princess Hotel & Beach Club to announce the four local charities that will be receiving funds raised at the annual XL Catlin End-to-End event, which is scheduled for May 5, 2018.
In addition to Bermuda End-to-End Trustees and event co-ordinators, the reception was attended by representatives of Title sponsor XL Catlin and Platinum sponsor Royal Gazette, as well as representatives from each of the selected charities.
XL Catlin End-to-End Kick-Off Reception at Hamilton Princess Hotel & Beach Club 2018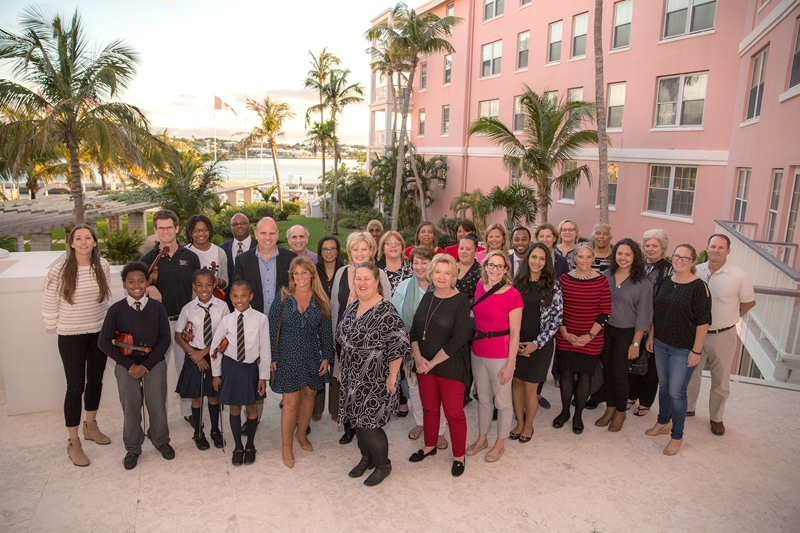 "We owe so much of our success, seen in the $5.5 million raised, 202 charity grants given and 45,000 participants over the past 31 years, to the support of the many organisations and individuals who partner with us to make this exciting enterprise happen each year," said Anne Mello, chair of the End-to-End Charitable Trust, in her address at the Kick-Off Reception. "Because of their support, we are able to distribute 100% of all participants entry fees and fundraising efforts to our selected charities."
The funding focus of the 2018 XL Catlin-sponsored event is on the needs of families in Bermuda, with participants and donors being encouraged to Commit to Community by raising funds while having fun – or fun raising. During the recent reception, each of the chosen charities expressed their gratitude and briefly explained how they plan to use the funds raised.
Diana Martin of the Bermuda Sloop Foundation said, "We are deeply honoured to have been chosen as a recipient of End-to-End Grant funding. Community support is essential to the continuation of our important and award-winning sail training programme. All funds received will go towards student expeditionary learning voyages on our floating classroom, Spirit of Bermuda. Heartfelt thanks go to all involved in the event and to the amazing Bermuda community for helping us continue to Change Lives, One Voyage at a Time, Over Time."
Colleen English De Grilla from P.A.L.S. noted, "P.A.L.S. is extremely appreciative of the End-to-End committee for choosing us this year as recipients of a grant. We continue to treat cancer patients throughout their journey in the home and provide a holistic approach to care. We currently spend over $3,000 a day on patient care and this grant will enable us to further enhance and develop our services. Thank you."
Chas Arnold from the Bermuda School of Music led his group of student violinists from Victor Scott Primary School as they delighted attendees with an excellent performance during the course of the evening. "The Bermuda School of Music is extremely grateful to the XL Catlin End-to-End, its sponsors, participants and their pledge partners. It is our mission to deliver the power and benefits of music through instrumental instruction and we are thrilled that we are able to continue doing so with your support."
Debbie Jones from the Bermuda Diabetes Association told attendees, "We are so honoured and thrilled to have been chosen as one of this year's charities. Funds from this event will be used to design and build the Associations education and teaching kitchen in our new building which will be called the "End-to-End Teaching Kitchen". Being overweight and obese is the underlying factor for diabetes as well as so many other chronic diseases. Teaching people how to cook and eat healthy is key to making the changes necessary to turn the diabetes epidemic around. We would like to thank everyone on the End to End Committee for choosing us as one of the charities."
In addition to the four charities noted above, this year's XL Catlin End-to-End event will offer participants the chance to vote directly for one additional charity to receive a grant of $30,000. The End-to-End 30-year Anniversary People's Choice nominees in 2018 are: ABC Football Foundation, Bermuda Red Cross, the Family Centre, and WindReach.
The XL Catlin End-to-End event is organised by the Bermuda End-to-End Charitable Trust's Board, and is supported by numerous local sponsors, individual event participants, and individual supporters.
Read More About
Category: All