This year the theme for International Women's Day [IWD] is #PressForProgress, and Centre Against Abuse wish to mark March 8th, IWD by having all of Bermuda wear purple that day.
"We want all of Bermuda to stand together and press forward to progress gender parity," the registered charity said.
Laurie Shiell, Executive Director of Centre Against Abuse, with Governor Rankin and some of the Government House staff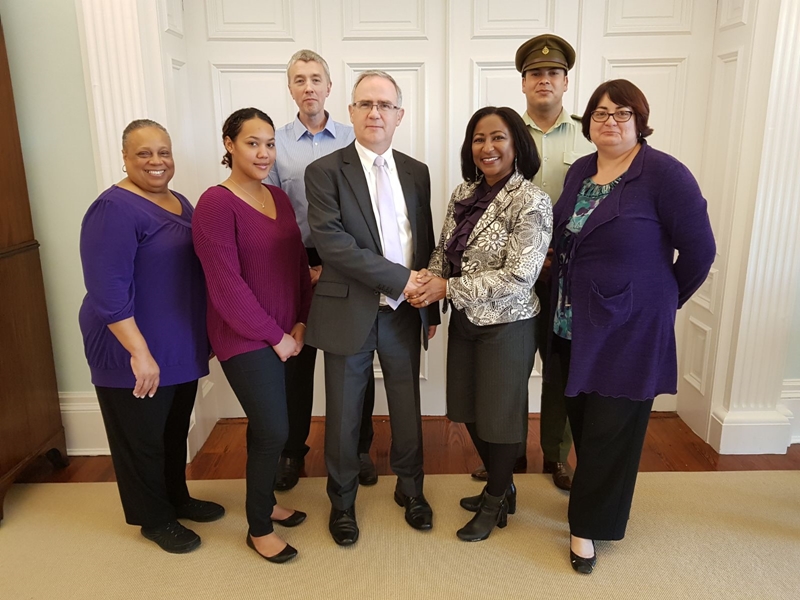 The Centre said, "International Women's Day belongs to everyone everywhere – governments, companies, charities, educational institutions, networks, associations, etc.
"This year we are asking everyone, young and old, male and female, to push for gender equality in every aspect of life where there is inequality. Purple stands for justice and dignity, and the wearing of purple will symbolize solidarity.
"The wearing of purple on March 8th shows your commitment to #PressForProgress and your stand against gender biased inequalities. Purple can be worn as a top or bottom, tie, belt, ribbon, accessories, etc. The item does not have to be solid purple, it can be a colour within a print.
"It is our hope that all of government, every business, church, educational institute, and individual will join CAA in wearing purple on March 8th.
"We are asking for group photos to be taken and uploaded onto Facebook or Twitter or Instagram with #PressForProgress #CentreAgainstAbuse #Bermuda.
"Donations to Centre Against Abuse, Bermuda's only charity [#146] that works to end domestic abuse and sexual assault can be deposited into HSBC a/c 010 284 636 001.
"Let's come together as a community united and begin the conversation to #PressForProgress. "
Read More About
Category: All