Bermuda's complement of able mariners has just grown with the commencement ceremony of 11 participants – aged 16-29 – from the Endeavour Maritime Careers Springboard Programme.
Deputy Premier and Minister of Transport and Regulatory Affairs Walter Roban was on hand Thursday evening to congratulate graduates whose intensive training has qualified them to be sailing instructors, increased their employment skills and opened channels to maritime industry careers.
The Deputy Premier said, "Credit goes to all the students celebrated this evening who are in this programme. Some had no experience with sailing but they left their comfort zone, took the risk, entered the programme and are now qualified and certified in a number of key areas of sailing.
John Wight [BF&M], Leatrice Oatley [Chair of Endeavour Community Sailing], Deputy Premier Roban, Dr. Duranda Greene [Bermuda College], Dr. Melvyn Bassett [Endeavour Community Sailing board member].
"They all have the possibility of careers in the Maritime Industry. They have done Bermuda proud. Additional credit goes to their instructors, parents and supporters of the programme which is making a difference for young Bermudians."
The programme represents the latest extension of what is offered to Bermuda's young people, beginning at age 10, by the non-profit Endeavour Community Sailing, which provides experiential Science, Technology, Engineering, Arts, and Math, or S.T.E.A.M. education, through sailing.
Participants gained knowledge and training in sailing and powerboat instruction, marine radio, marine first aid and boat maintenance.
They also benefited from exposure to the variety of occupations in the maritime industry as well as invaluable tips from maritime industry professionals about career pathways and how to be successful in their careers.
Deputy Premier and Dr. Greene with eight of the 11 graduates.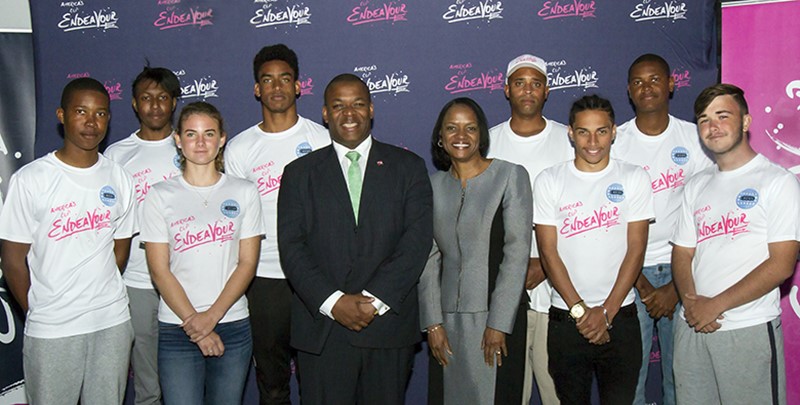 All training for the programme was facilitated by the Endeavour Community Sailing team members and complemented by assessments facilitated by Royal Yachting Association assessors at the Royal Bermuda Yacht Club affording participants the opportunity to earn internationally recognised qualifications.
The programme launched in mid-January through a partnership with the Bermuda College Division of Professional and Career Education [PACE] as a pilot initiative with an intense Monday to Friday, all-day training format for a 6-week duration.
The Deputy Premier was joined by BF&M CEO John Wight and Thania Redman of Ascendant Group, representing sponsors of Endeavour Community Sailing, together with Bermuda College President Dr. Duranda Greene, Karen Smith and Tawana Flood.
The programme also found support from the Bermuda Shipping and Maritime Authority, the Department of Marine and Ports Services and the Bermuda Economic Development Corporation.
Deputy Premier and Dr. Greene with eight of the 11 graduates and Endeavour Community Sailing staff

The Government said, "Other corporate sponsors included the Spirit of Bermuda/Bermuda Sloop Foundation, Spar Yard Marine Solutions, Bermuda Yacht Services, H2O Water Sports, Volvo Ocean Race and Sandy's Boat Club."
Deputy OBA Leader Leah Scott said, "I would like to congratulate the eleven graduates of the Inaugural Maritime Careers Springboard Programme, which was put on by the Endeavour Sailing Community. The Programme was offered to Bermudian residents who may be interested in pursuing a maritime industry career. The Programme enjoyed a 100 percent completion rate by the participants.
"I would also like to extend my thanks to The Bermuda Sailing Association who kindly sponsored the cost for the Dinghy Instructor portion of the course, thereby reducing the total cost for each participant. The ongoing legacy of AC35 continues to benefit Bermuda and Bermudians."
Read More About