The Bermuda Trade Union Congress [BTUC], under President Jason Hayward, held a Special Convention on Thursday, March 29.
A spokesperson said, "The Convention provided the BTUC with an opportunity to highlight Bermuda's troubling high rate of youth unemployment and featured a debate by The Dynamic Debaters on the topic: "Should the Government take responsibility for Bermuda's high rate of youth unemployment?"
"The Dynamic Debaters, under the leadership of Brother Gladstone Thompson, Principal of St. David's Primary School, impressed those in attendance with both their high-caliber debate skills and extensive research on the topic.
"Representing the Dynamic Debaters were: Elias Baia, Raina Defontes, Matthew Elliott, Christopher Jackson, Kalshae Matthew, Robert Thomas, and Tierrai Tull.
The 1-hour and 44-minute live video replay is below:
"The afternoon session of the Convention focused on the business of the BTUC. President Hayward reported on the work of the Congress during a time when the BTUC found itself rebounding from one of the most turbulent times in the history of Bermuda's labour movement including the fight:
for the livelihood of our musicians
against the privatisation and mutualisation of public services
to restore the pay of public sector employees
to protect the right to strike
against crippling permanent injunctions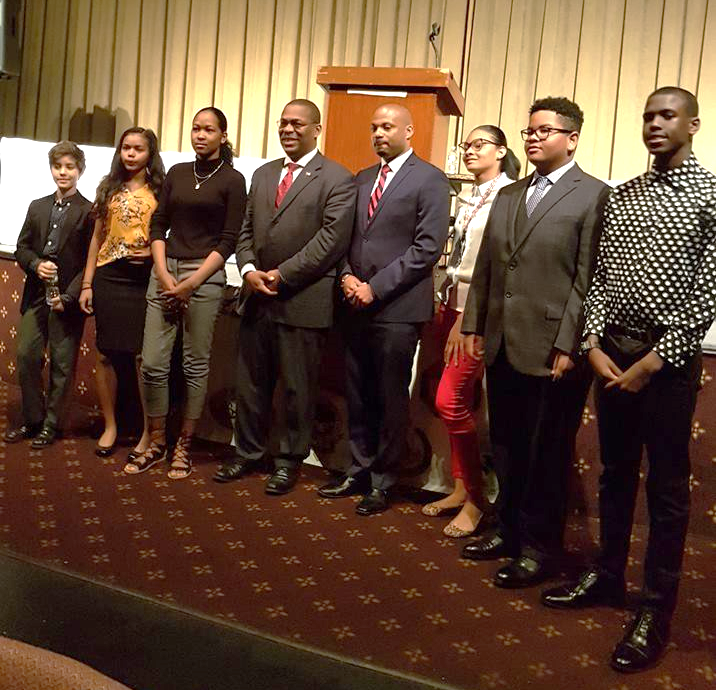 "The President also provided delegates with an update on the progress of items featured in the 2017 BTUC Workers' Agenda including:
developing and implementing a living wage
developing a workforce development plan
addressing youth unemployment
instituting unemployment insurance
granting cost of living adjustments [COLAs] for all workers
establishing May 1st [International Workers Day] as a national holiday
addressing age discrimination in employment
reforming labour and pension legislation

"During the business session, Delegates voted in favour of a motion for the BTUC to petition government to allow our colleagues in the Bermuda Police Service [BPS] the right to belong to or form their own union.
"The BTUC will look for ways to lobby government to ensure that the ILO mandate of the right to belong to any organization is upheld.
"In addition, an election was held for vacant BTUC Executive Officer positions which resulted in the appointment of the following: Assistant General Secretary – Bro. Edward Ball Jr. [BPSU], Treasurer – Sis. Renee Jones [BIU] and Assistant Treasurer – Sis. Lauren Hayward Bell [BPSU]. These Officers joined the BTUC Executive including:
President – Bro. Jason Hayward [BPSU]
General Secretary – Bro. Michael Charles [BUT]
1st Vice President – Bro. Donald Lottimore [ESTU]
2nd Vice President – Bro. Shannon James [BUT].
Read More About