At the 10th annual Global Entrepreneurship Congress [GEC] in Istanbul Turkey, Bermuda again took home two Champion Catalyzer awards.
These awards will join the five others that Bermuda has received, through the entrepreneurial efforts of the Bermuda Economic Development Corporation [BEDC] over the years, at the international event.
Jeff Hoffman, GEN Board member; Maryem Biadillah, Senior Policy Analyst, Dept of ICT Policy and Innovation; Joe Mahoney, Executive Director, Youth Entrepreneurship Initiative of Bermuda; Jamillah Lodge, BEDC Acting MSME Director; Senator Crystal Caesar, Junior Minister of Economic Development & Tourism; Raymond Lambert, BEDC Economic Development Officer, St. George's.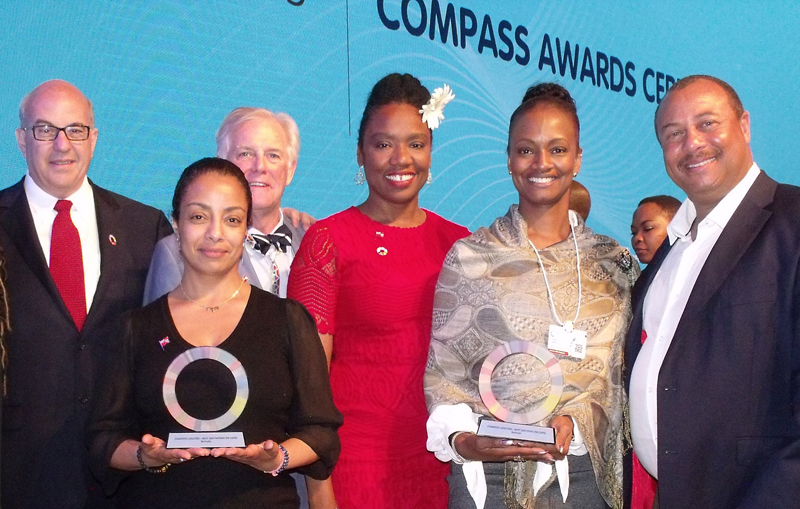 Last November, the BEDC hosted 46 events and collaborated with 29 local and overseas partners for Global Entrepreneurship Week [GEW], which celebrates the Island's entrepreneurs.
Out of 170 countries that participate in the GEW events around the globe, Bermuda has once again won top honors for hosting the most events and for having the most partners per capita in 2017.
Jamillah Lodge, BEDC's Acting Micro, Small and Medium Enterprise Director and GEC Lead Delegate, said: "The awards are a testament to how hard the GEW Host Committee works to ensure that during Global Entrepreneurship Week local entrepreneurs have access to a variety of events that inspire, mentor and engage them.
"We are honored to have been recognized once again with two Champion Catalyzer Awards and feel this is something the entire Island can be extremely proud of."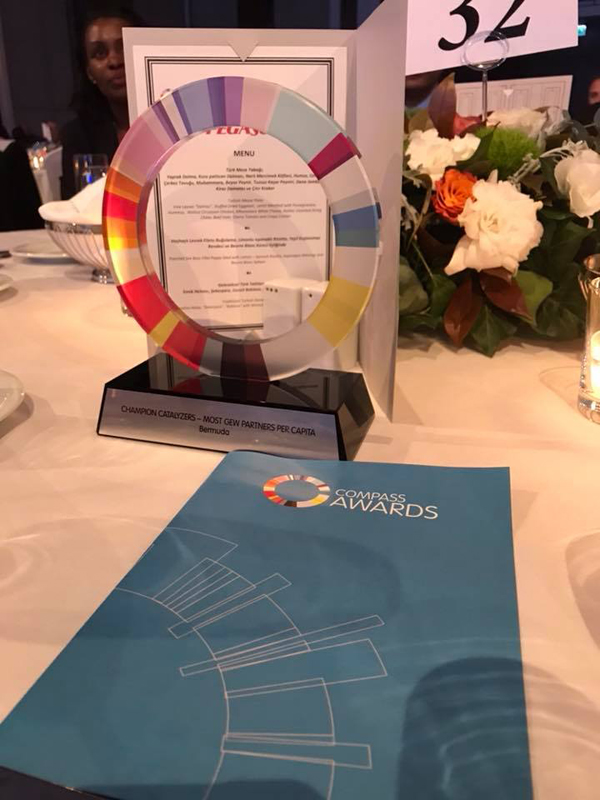 Minister of Economic Development and Tourism Jamahl Simmons echoed a similar sentiment and congratulated the BEDC team on a job well done.
"GEW is a fantastic month-long series of events, and I was extremely honoured to have taken part in a variety of award presentations and gatherings held last November," he said.
"I observed first-hand the amount of hard work that goes into producing an event of this magnitude. Congratulations to the BEDC team for being awarded two Catalyzer Awards at the GEC. This international recognition aligns with Government's commitment to support local entrepreneurship, encourage small businesses and expand access to capital for new businesses."
This year representatives from the BEDC travelled to Istanbul, Turkey for the GEC, taking place from Sunday, April 15 until Thursday, April 19.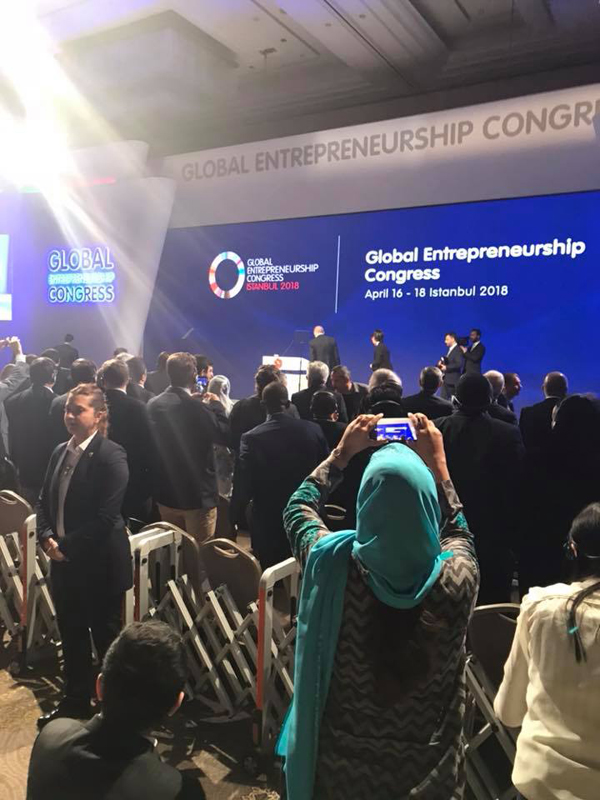 Maryem Biadillah, Senior Policy Analyst of the Department of ICT Policy and Innovation and a member of the GEW Host Committee stated: "This win at the 2018 Compass Awards is a true testament to Bermuda's commitment to and unwavering support of its remarkably enterprising start-ups and entrepreneurs.
"Since joining the GEW movement, Bermuda's calendar has grown from a humble 5 events and 4 partners ten years ago to a rich, month-long event full of activities, workshops, competitions and announcements that aim to celebrate, understand, support, and connect Bermuda's entrepreneurs, making the yearly GEW a highly-anticipated time of the year."
Every year, the GEC gathers together thousands of entrepreneurs, investors, researchers, policymakers and other startup champions from around the globe to identify new ways of helping founders start and scale new ventures internationally. At the weeklong GEC event, delegates make connections, gain insights, learn about new research, and leave ready to renew their programs, policy ideas and business skills.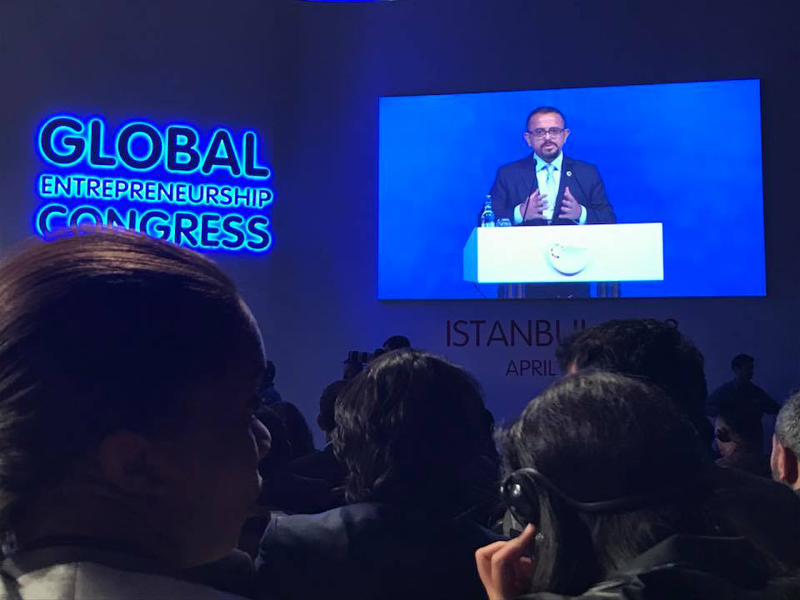 A total of thirteen Bermuda delegates attended the Congress including: Jr. Minister of Home Affairs and Economic Development, Senator Crystal Caesar, BEDC Board Members, Marc Daniels and J'Von Furbert; BEDC Acting Micro, Small & Medium Enterprise Director, Jamillah Lodge; BEDC Economic Development Officer, Raymond Lambert; Bermuda-based entrepreneurs and Enterprise Bermuda Incubator participants: Chaella Bradshaw Douglas of Good Chew, Cire Bean of Payakid, Christopher Phillips of Phillips Innovations, Nakia Smith of Sip and Savor Tours Bermuda, Surlena Smith of Ponda Pits, Bermuda's participant in the Future Agro Challenge; Senior Policy Analyst of the Department of ICT Policy and Innovation, Maryem Biadillah and Joe Mahoney, Executive Director of the Youth Entrepreneurship Initiative of Bermuda.
Raymond Lambert, BEDC Officer and GEW Host Committee member, said the GEC has been a fantastic opportunity to meet, share with, and learn from entrepreneurs and policy makers from around the globe.
"We are proud that Bermuda received two Catalyzer Awards this year, evidencing the consistent, unwavering support that Bermuda seeks to provide for its local entrepreneurial ecosystem," he added.
Read More About