Registration has opened for the inaugural Bermudian edition of the International Cyber Risk Management Conference [ICRMC].
A spokesperson said, "Opening remarks at the fourth annual International Cyber Risk Management Conference [ICRMC] at the Metro Toronto Convention Centre included the proud news that the successful conference is launching a new Bermudian event and that registration is now open.
"ICRMC Bermuda will take place December 6-7, 2018 at the Hamilton Princess & Beach Club. Conference programming and registration can be seen online.
"The theme of the inaugural ICRMC Bermuda conference is Insurance Approaches to Cyber Risk Management. This unique agenda will focus on cyber risk with an emphasis on re/insurance and risk transfer solutions.
"Bermuda, the 'World's Risk Capital', is the ideal market to host this vendor-neutral gathering of the global risk management community. The ICRMC Bermuda program is being designed for corporate risk managers, corporate counsel, auditors, CISOs, CSOs, and CTOs, governance and claims professionals, insurers, reinsurers, insurance brokers and service providers."
Joel Baker of MSA Research, Jereme Ramsay of the Bermuda Business Development Agency, and Adam Segal of the Council on Foreign Relations [New York]: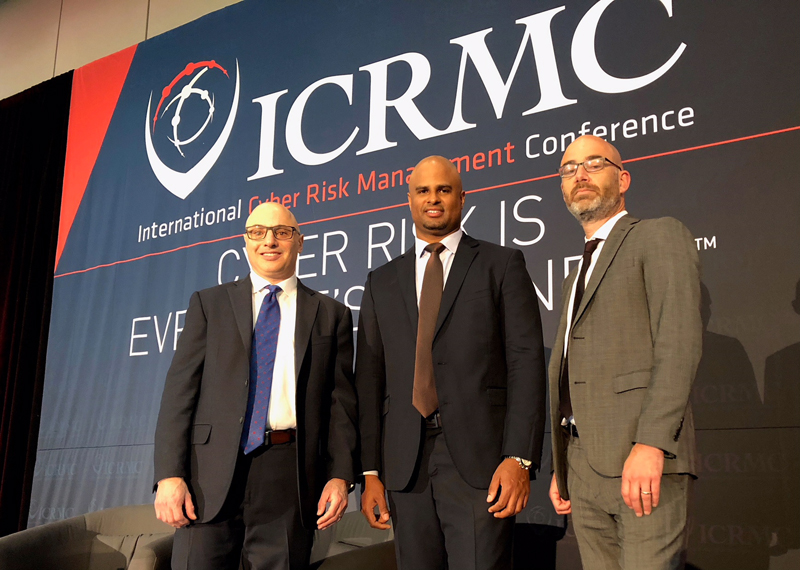 "We are delighted to be partnering with the Bermuda Business Development Agency [BDA] for ICRMC Bermuda. The agenda reflects the growing need for risk transfer solutions as part of the arsenal of approaches available to organizations to prepare for and recover from a cyber breach," said Joel Baker, President and CEO of MSA Research, the producer of ICRMC.
"Risk professionals are faced with cyber attacks that are increasingly difficult to prevent, making insurance solutions that are overtly designed to meet this challenge an important component of corporate cyber risk management and business recovery."
"A world-class advisory committee comprising cyber risk experts from the fields of insurance, information technology, law, audit and compliance, governance and public policy are shaping the program for ICRMC Bermuda. The British Overseas Territory is a leading global re/insurance hub and the world's most significant property casualty market, supplying an estimated 35 percent of capacity for Lloyd's of London. Bermuda is also the largest domicile for captive insurance and insurance-linked securities."
"As home to a third of the world's top re/insurers, Bermuda is a fitting venue for the type of content and quality of this inaugural event, and we're proud to welcome ICRMC to our market," said Jereme Ramsay, BDA Business Development Manager for the risk solutions sector.
"The partnership is particularly fitting, given Bermuda's many close links with Canada, and our location will also allow us to attract US and UK audiences."
ICRMC Bermuda Session highlights include:
Current Cyber Risk Trends and How They're Impacting Services and Offerings
Cyber Pricing, Underwriting, Modelling and Reserving
Reinsurance and ILS – Managing Cyber CAT Risk
From Blockchain to Crypto-Currency – Cyber Security Implications
Employing AI in Cyber Risk Management
ICRMC Bermuda featured speakers include:
Craigg Ballance, Director, Canadian Member Services, FS-ISAC
Anthony Belfiore, SVP and CSO, Aon
David Burt, Premier of Bermuda and Minister of Finance
Wayne Caines, Minister of National Security
Charles Carmakal, VP, Mandiant/FireEye
Ari Chatterjee, Chief Underwriting Officer, Envelop Risk
Todd Daubert, Partner, Dentons US LLP
Charles Dugas, Director, Insurance Solutions, Element AI
Victoria Edmonds, VP, Professional Liability, Markel
Alan Frith, Senior Manager, Consulting and Client Services, AIR Worldwide
Nick Galletto, Global and Canadian Cyber Risk Services Leader, Deloitte
Chris Garrod, Director, Conyers Dill & Pearman
Giles Harlow, VP, Professional Risk Solutions, Aon
Brett Henshilwood, Partner, Deloitte
John Huff, President and CEO, Association of Bermuda Insurers and Reinsurers
Chris Jansma, SVP, Head of FINPRO, Aspen
Noel Pearman, SVP and Cyber Product Lead, XL Catlin
Daniel Rance, Underwriter, Financial Lines, Iron-Starr
Adam Segal, ICRMC Bermuda Emcee and Director of Cyberspace and Digital Policy Program, Council on Foreign Relations [NY]
Sarah Spurling, SVP, Professional Lines, Sompo International
Mark Synnott, Managing Director and EVP, Willis Towers Watson
Tim Tetlow, COO, HSCM Bermuda and Partner, Hudson Structured Capital Management Ltd.
George Thomas, Senior Advisor, PwC
Ross Webber, CEO, BDA
Greg Wojciechowski, President and CEO, Bermuda Stock Exchange

Read More About