[Updating] Emergency services responded to The Berkeley Institute this morning [April 13] where it appears a man fell in a hole and was unable to get out.
It appears that all the students are fine, and the person who fell was a BTC worker. Bermuda Fire and Rescue Service, police and an ambulance are on scene. The scene has restricted access, hence further details are limited at this time, and however we will update as able.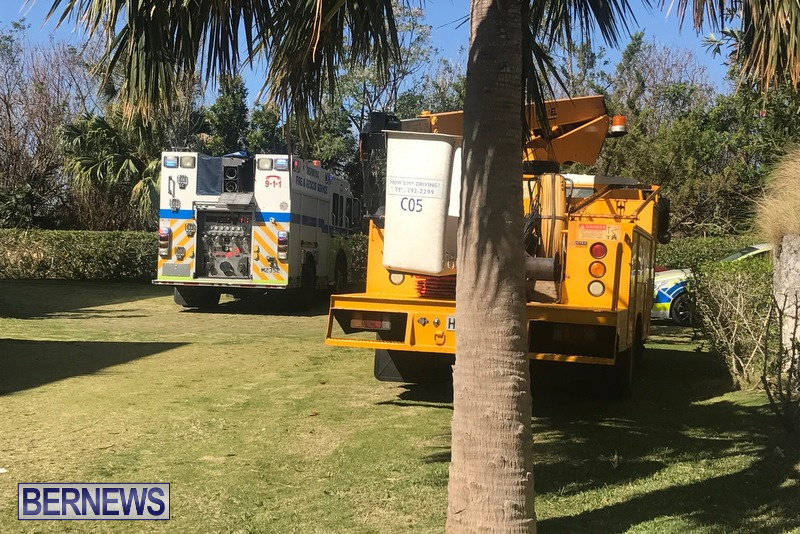 Update 12.23pm: A police spokesperson said, "A few minutes after 10am today [April 13th] police and first responders attended a report of an industrial accident involving a male BTC worker who was doing work in a utility service area at the northern end of Berkeley Institute, which services CITV.
"It appears that whilst he was going down into the service shaft, the 60-year-old man slipped off his ladder and fell approximately 25 feet.
"As a result nine members from Bermuda Fire & Rescue Service, workers from Digicel/BTC, BELCO, school staff and Emergency Medical Service [EMS] personnel worked to have the 60-year-old man extricated.
"He was later taken out of the hole, alert and conscious at 11:15am and transported to King Edward VII Memorial Hospital via ambulance for medical assessment.
"The Bermuda Police Service would like to thank all of the agencies and volunteers who played a part in his rescue.
"The Government Health and Safety Officer has been notified and an investigation into the incident is underway."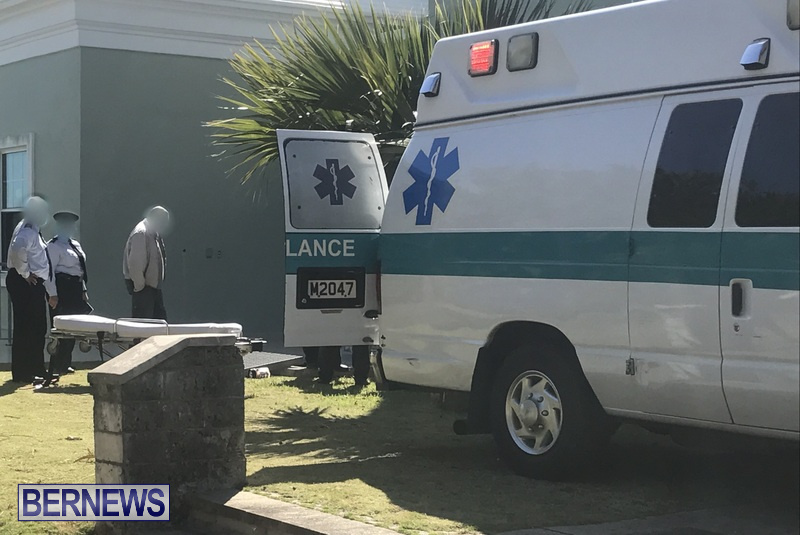 Update 1.24pm: A BTC spokesperson said, "This morning a BTC outside plant technician was involved in an accident whilst working in the service area of The Berkeley Institute. The emergency services were in prompt attendance and his injuries were assessed to be non-life threatening. He has been transferred to King Edward Memorial Hospital where he is in a stable condition whilst being fully assessed.
"The safety of our employees is paramount and a full investigation will take place. BTC would like to thank the emergency services for their quick response and professionalism while his friends and colleagues at BTC are here to support him as he makes a full recovery."
Update 3.14pm: A BFRS spokesperson said, "At approximately 10:04am this morning, Friday, April 13, 2018, the Bermuda Fire and Rescue Service responded to a report of an industrial accident on the grounds of the Berkeley Institute Campus in Pembroke.
Fire Service spokesperson Lieutenant Russann Francis stated "we received a report of a worker who had fallen into a manhole and the caller was able to hear the patient but could not see or reach him.
"The Fire Service responded to the incident with three vehicles and nine personnel. Once the scene was assessed, a team of two personnel descended via a ladder approximately 40 feet to make contact with the patient. Upon contact a physical assessment was carried out where we found he had lacerations to the head and complained of chest pain. The patient was secured to a backboard and extricated.
"The injured person was transported to King Edward Memorial Hospital via ambulance for further assessment and treatment.
"Department of Health and Safety were notified of the incident."
Read More About
Category: Accidents and fires, All, News