Wildlyfe Promotions is getting set to present a musical event dubbed "Luxury" on Saturday, April 14 at the CedarBridge Cafeteria from 10.00pm to 3.00am.
A spokesperson said, "For the first time in Bermuda, reggae super star DJs and sound system Platinum Kids from New York will be here on the island, fresh off the love and harmony cruise where they delivered night after night of extreme entertainment to hyped up crowds of 1,500-plus people.
"Bermuda is the next stop for Platinum Kids, where they will be doing a two night feature playing the best in reggae, dancehall, soca, and much more.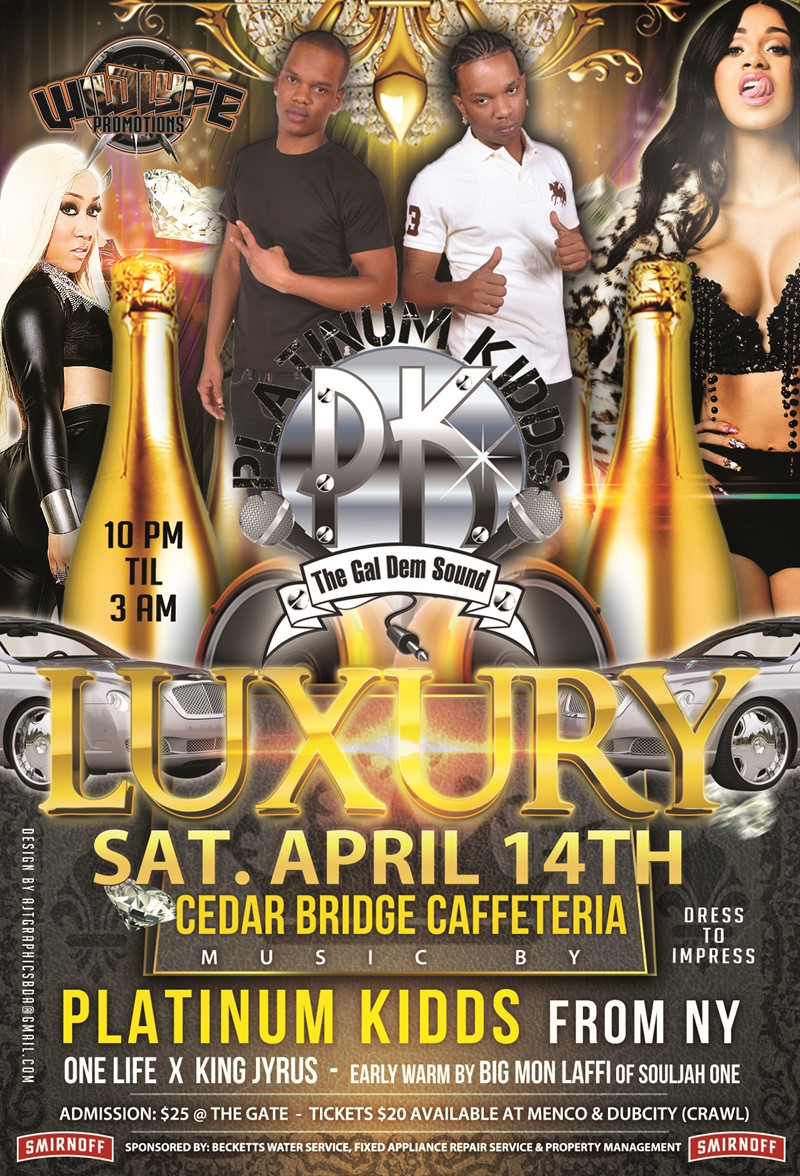 "The first night will be a starter on Friday, April 13th entitled "Money Pull Up" at the Baileys Bay Cricket Club, guaranteed to be packed with energy and quality entertainment, with music by Platinum Kids and Bermuda's own One Life Sound, DJ Sheep and DJ Aztec. Admission is $20 at the door.
"The second night, entitled "Luxury" will be held at the CedarBridge cafeteria. This is a night for all ages to come out and enjoy an event filled night with music from the 80s, 90s, and right up until 2018, playing the best in reggae, dancehall, soca and more.
"We encourage everyone to come out early and get some good vibes. Entertainment provided by Platinum Kids from New York and Bermuda all stars One Life, King Jyrus and Souljah 1.
"Admission is only $25 at the gate. Tickets are available at Menco and Dubcity. This event is sponsored by
Burrows and Lightbourne, Becketts water service, fixed appliance and property management."
Read More About
Category: All, Entertainment, Music