Bermuda's dressage season came to a satisfying conclusion with solid performances achieved at the 2018 Caribbean Equestrian Association Dressage Competition [CEA] held at the National Equestrian Centre on 26th May.
Bermuda Children's Team – Left to Right: Kesley Amos, Jess Hoiser & Kayla Bardgett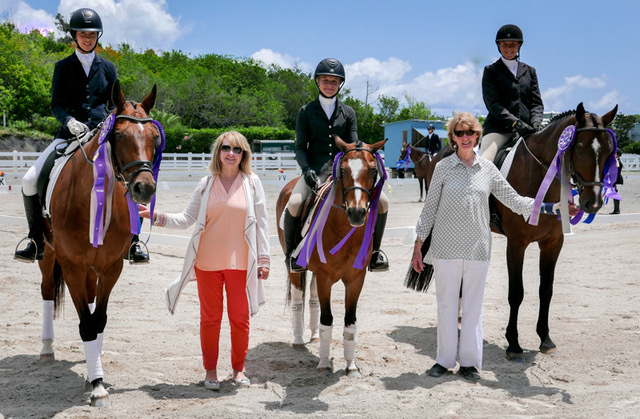 This particular competition is unique in that it enables riders from CEA membered countries to compete against each other countries without having to travel overseas.
An appointed judge travels to each of the competing Islands to judge at the officially organized CEA dressage shows. This year's event is being judged by FEI 4* Judge Brenda Minors of Canada.
Bermuda riders competed in dressage tests ranging from Training Level through to Intermediate 1. Competitors are ranked both individually and by country team.
This year's Adult Team comprised of Abby Bardgett riding Up Up & Away, Dawn Fox riding Lancelot & Angela Halloran-Smith riding Finnomenal AV. Members of the Children's Team included Kayla Bardgett riding Causing Chaos, Kelsey Amos riding Wiratoro & Jess Hosier riding Just Pete.
Bermuda Adult Team. Left to Right: Dawn Fox, Abby Bardgett & Angela Halloran Smith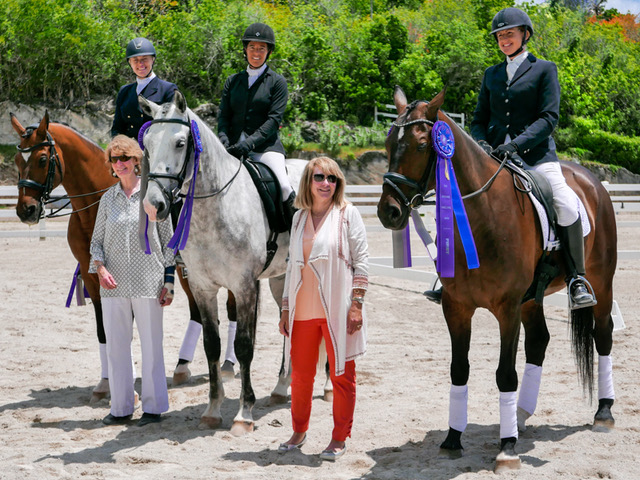 The Highest Adult Score was awarded to Abby Bardgett riding Up Up & Away [score 70%] whilst her daughter, Kayla Bardgett, achieved the Highest Overall Score as well as the Highest Children's Score of the day [72%].
Final country and individual standings will be determined once all participating countries have completed their competitions.

Read More About