The Bermuda Economic Development Corporation [BEDC] has entered into an agreement with law firm Cox Hallett Wilkinson [CHW], so that members registered with the BEDC can obtain advice and legal services — specifically those relating to incorporations, LLCs, and local partnerships — at a discounted cost.
"CHW has agreed to assist local entrepreneurs registered with the BEDC, whom are looking to form and incorporate their business into a limited liability entity," BEDC explained.
"The law firm can assist by meeting with BEDC members to advise on the appropriate legal structure for their proposed business; assist with the completion of the necessary documentation to form a limited liability company or partnership; liaise with the relevant regulators to complete the formation of the corporate structure; and then once the entity is registered, assist with post completion matters such as organizing the company and completing all regulatory filings."
Mrs. Erica Smith, the Executive Director of the BEDC, said: "We warmly welcome this new partnership with Cox, Hallett Wilkinson to get our clients discounted rates for specific legal services.
"The BEDC has a database of close to 5,000 clients, and on average we see 700 clients each year. Many of these individuals are in need of legal support and advice – whether they are looking to incorporate their business or become a limited liability company – and being able to refer them to one of the leading commercial law firms, means they will have access to excellent professional services at a reduced cost."
Stated Melanie Fullerton, an Associate at Cox Hallett Wilkinson Limited: "CHW is committed to growing local business by working with local entrepreneurs to build their proposed company structure in the most risk appropriate manner for their business and the future of their business.
"It is exciting to work with people who are so passionate about their new business ideas and help them to enter into the local business market in a position that protects their personal interests."
For more information on the new partnership or about the BEDC in general, call 292-5570 or email info@bedc.bm.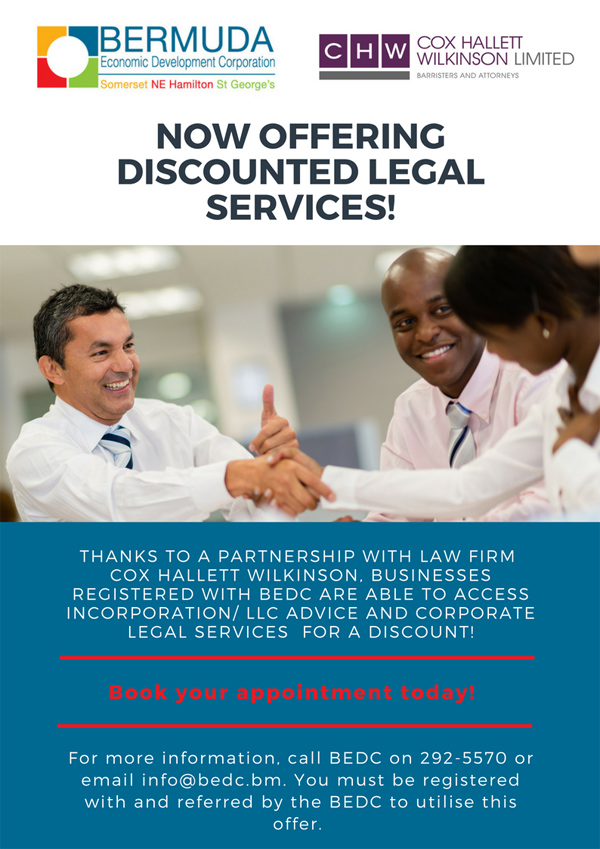 Read More About