The Minister of Health Kim Wilson today [May 11] commended the American International Group [AIG] for focusing on the health of their employees at the AIG Wellbeing Fair at their Hamilton, Richmond Road offices.
A spokesperson said, "The Minister said she was pleased that the company recognized that promoting and encouraging healthy lifestyles can make a significant difference in the long-term health of employees."
Minister Wilson celebrates the AIG Wellbeing Fair with company staff: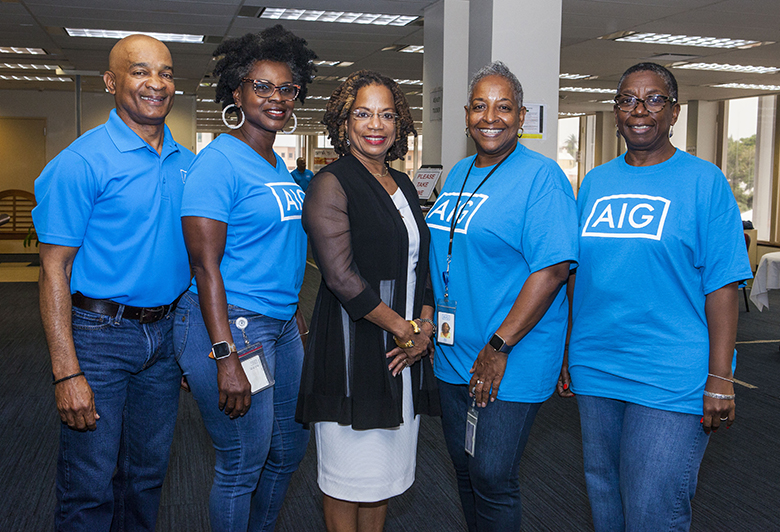 "Attending the fair were staff of AIG's American International Company [AICO], together with employees of other building occupants, including Validus, Granite, AWAC and Ascot."
At the event, Minister of Health Kim Wilson said, "It brings me great pleasure to be here today to take part in an initiative where one of Bermuda's most significant international companies puts the focus on the health of their employees."
Minister Wilson chats with wellness author Dr. Sabrina Famous: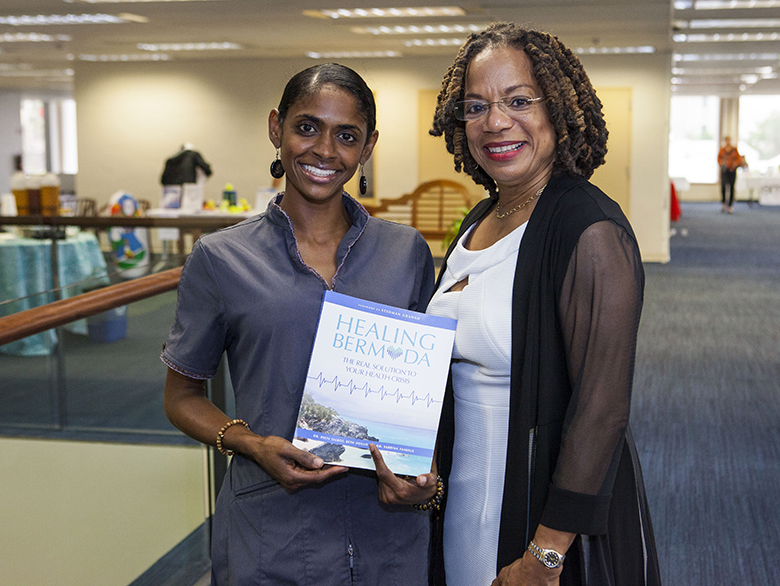 "From the time AIG formed its first Bermuda company through a special Act of Parliament just before Christmas of 1947, the company has been an important part of Bermuda's business life.
"In establishing Bermuda's first international insurance company, many believe it to be the spark which led to Bermuda's substantial international insurance and reinsurance markets of today."
The event focused on wellbeing and health: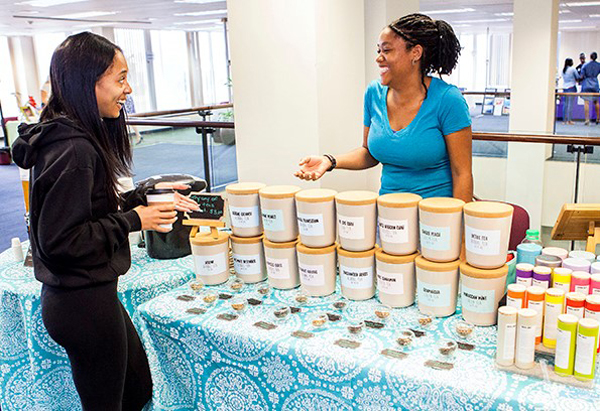 "But the company has for many years also played an important role in other parts of Bermuda life with more than 90 employees active in the community and the iconic AIG building on Richmond Road.
"This AIG Wellness Fair is just another example of the corporate contribution made by the company to the Bermuda community."
Minister Wilson was pleased AIG put the focus on the health of their employees: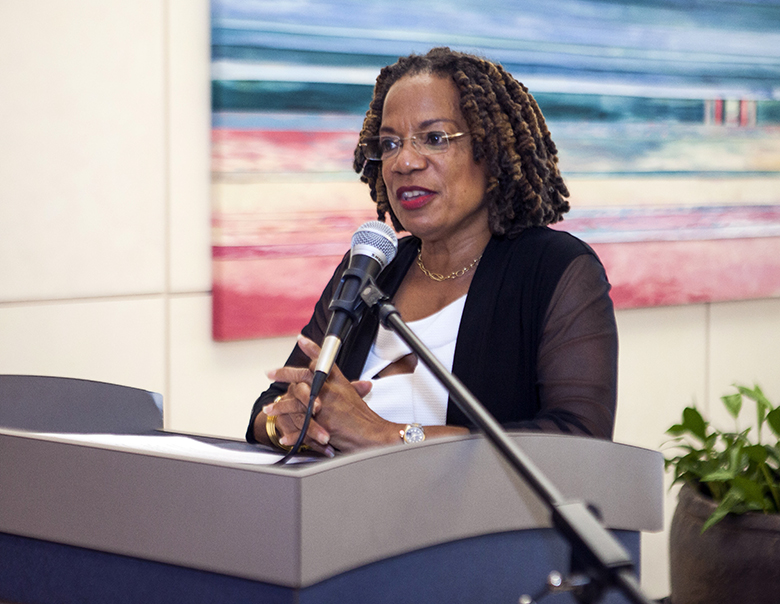 "The fair is formally being hosted by American International Company Ltd., fondly known to Bermudians as AICO, and is open to all of the building's tenants, insurance industry companies with an additional staff of approximately 340.
"It is also heartening to see that you have already been busy with health education opportunities for staff with a series of "Lunch N Learn" seminars."
Minister said Health officials are bringing attention to nutrition, diabetes and obesity: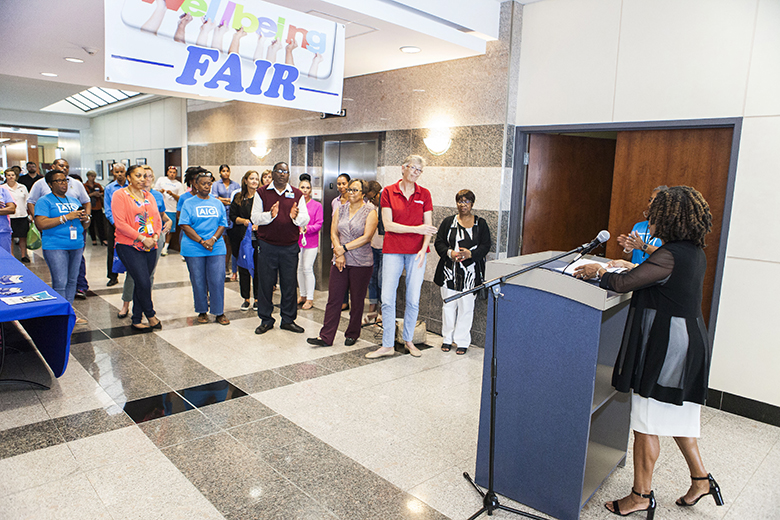 "You've discussed the need to arrest the rise of obesity and diabetes in Bermuda; had a presentation on diabetes awareness; and had a nutrition talk on reducing stress and increasing energy.
"These seminars have contained important life lessons for your employees – the same lessons the Ministry of Health has been sharing with the broader community."
The fair was open to staff of other companies in the building: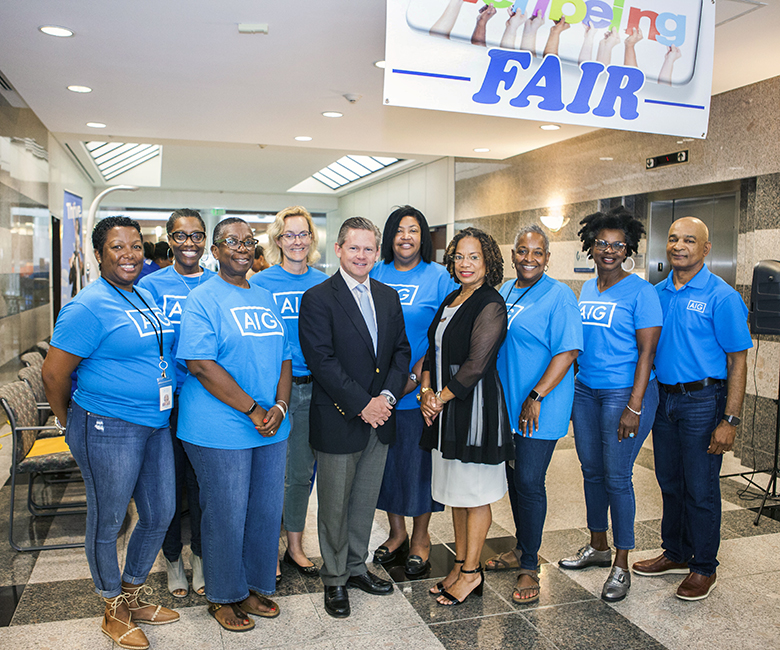 "I'm glad to see such great partners in this important goal to improve the health of all our residents. The Ministry's vision is "Healthy people in healthy communities" and events like today, supported by good corporate citizens like AIG, bring us closer to achieving this vision."
The event was hailed as an educational opportunity:


Read More About