[Written by Don Burgess]
The case against the Domestic Partnership Act began in Supreme Court this week in front of Chief Justice Dr Ian Kawaley.
The gallery of the courtroom had more than a dozen onlookers who heard Mark Pettingill argue that for people whose orientation is gay and "I want to marry a man and this proposed law destroys that dream."
Mr Pettingill said the DPA, which is scheduled to go into effect in June, discriminates against a class of people.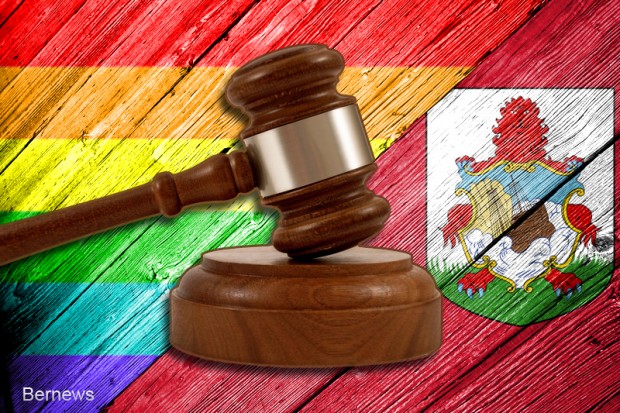 Mr Pettingill is representing Rod Ferguson, a gay Bermudian man who lives in the United States.
Last year Winston Godwin and Greg DeRoche, a gay couple, won their case in Supreme Court against the Registrar-General, who refused to publish their wedding banns.
After the General Election, Government passed a law barring gay people from getting married but allowing them to enter into domestic partnerships.
Mr Pettingill said that gay people and right thinking people took the view and have the view that the rights of homosexuals had become full, and that they were protected to do all the things their heterosexual friends do, including the right to marry.
The Chief Justice replied by saying that there is no guarantee in a democracy that the law will remain the same. There is a guarantee to have fundamental rights protected by the Constitution remain the same until the Constitution is amended.
The right of Parliament to pass laws is so fundamental to our system that the courts have to exercise serious restraint when asked to challenge the legality of what Parliament has done, he added.
He added this case might be argued in a completely different way at a higher court.
The Chief Justice added "In this sense, this hearing may be regarded as a warm-up act before the main show starts."
Mr Pettingill then argued it was an inhuman and degrading treatment to deny his client the right to marry a person of whose choosing.
He said there is no question that the treatment of gays under this legislation is degrading because it creates feelings of fear, anguish and inferiority.
"This causes them anguish or debasement or distress or human relations," Mr Pettingill continued. "Does it prevent Mr Ferguson from thinking that he doesn't want to live in Bermuda now. Many homosexuals feel that way. I had one young man call me and say 'I'm leaving now' as a result of this."
"We cannot now enjoy this right that heterosexuals have. We cannot express ourselves in this way. Is that not anguishing and humiliating?"
The Chief Justice suggested that a state agent would have engaged in some form of conduct which deliberately targets the individual act or a group of people.
"It can surely be so wide that anybody who is distressed or humiliated by an act of Parliament is capable to complain it is inhumane and degrading treatment," Dr Kawaley said.
"I am suggesting it's meant to apply to, at its worst, torture, and at the lowest level to be something like…people in the army who are subjected or are investigated and asked questions about their sexual orientation and are banned from the army."
"Homosexuals are being put in a subclass," Mr Pettingill countered. "They're not allowed to do this particular thing that the other class is being allowed to do. This is rhetorical, but how is that supposed to make one feel? Is that degrading? I'd like to but I can't because I'm gay."
Mr Pettingill added, "The state has created a subclass that is less than. Mr Ferguson as a homosexual is less than mine as a heterosexual. How possibly other than degrading or humiliating make him feel?"
"That doesn't let you go to the top floor; you have to get off here; you have to sit at the back of the bus; you can't sit at the counter. There are analogies throughout history on discrimination. This is discriminatory.
"Anything that discriminates against one class of people whether [it be] race or homosexual or religion or whatever it is, throughout the annals of history has been degrading to that group of people."
Mr Pettingill argued, "This is novel ground. This hasn't happened anywhere in the Commonwealth where to this type of approach where it was legalised, embraced and acted on, then an act of Parliament comes along and arbitrarily changes that and says 'this is the position.'
"Had it been that way from the outset, it would have been a bigger hill to climb. But it is that fact of taking away those rights.
He said homosexuals are being targeted by this law.
"We're talking about going back a step, a big step" Mr Pettingill said. "To the Applicant, your own Constitution doesn't protect you on this."
He pointed out that after the Godwin case the 'sun still came up the next day.'
The Chief Justice said the form of discrimination as far as Freedom of Conscience is concerned is relatively narrow.
"You have to be careful not to mix apples and oranges," he said, adding that sometimes it is difficult to work out what discrimination is actually wholly or mainly attributable to belief as opposed to sexual orientation.
Mr Pettingill argued "If the line of discrimination is very narrow, that surely answers the question. It doesn't matter; it's still discrimination."
The case continues.

Read More About