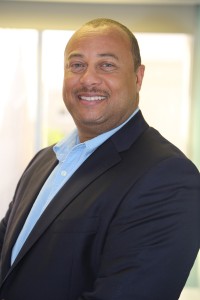 Bermuda's current or emerging entrepreneurs looking for more information on how to access a microloan to start or grow their business, are invited to attend the Bermuda Economic Development Corporation [BEDC]'s free summer Lunch & Learn on Wednesday, June 27th, 2018, from 12.30pm until 2pm.
Hosted by Ray Lambert, BEDC's Micro, Small & Medium Enterprise [MSME] Officer, the interactive 90 minute session will offer details on the BEDC's microloan products, including: whom they are available to and what criteria applicants must meet to ensure success.
Mr Lambert said: "This is the first in a series of exciting educational sessions the BEDC has planned to better educate the public on our products and services.
"Many in the community have a basic understanding of what we do to support and empower small businesses, yet when it comes to our specific products and services we find people still have a lot of questions.
"We decided to use these upcoming sessions as an opportunity to share our knowledge, so that the community can best take advantage of the resources and tools available at the BEDC.
"When individuals are ready to launch an idea and start a business, we hope we will be their first point of contact with any questions and queries."
The BEDC has allocated funds to facilitate small loans for individuals of up to $20,000. This microloan product was developed in response to an identified gap in the lending market, and as a result of the Corporation's biannual stakeholder survey, which showed small businesses were seeking financial assistance for small loan amounts that banks wouldn't typically finance for commercial purposes.
Erica Smith, BEDC's Executive Director, encouraged the public to take part in the next lunch and learn session and said it was designed to meet the diverse needs of BEDC's clientele. "
She said, "We pay careful attention to the challenges and issues our clients face and decided to use this presentation, and others that follow, to raise the community's awareness of what the BEDC does and how they can get the most out of our products and services to start, manage and grow their businesses.
"Each of the upcoming planned sessions are free and will be packed full of tips and expert advice from the BEDC team. We are excited for people to come out and soak up as much knowledge as they can."
The line-up for 2018/ 2019 Lunch & Learns include:
BEDC Microloan Product & Process [Facilitated by Ray Lambert] on June 27, 2018
Vending Licenses [Facilitated by Ondreyah Rochester] on September 26, 2018
EEZ and New Entrepreneur Payroll Concessions [Facilitated by Colina Outerbridge] on October 24, 2018
BEDC Letter of Credit and EEZ Duty Deferment [Facilitated by Erica Smith] on January 23, 2019
BEDC Loan Guarantee Product & Process [Facilitated by William Spriggs] on February 27, 2019
BEDC Multi-Week Programmes and Courses Overview [Facilitated by Jamillah Lodge] on March 27, 2019.
The BEDC said, "There are a limited number of spaces available for the upcoming lunch and learn on Wednesday, June 27 from 12.30pm until 2pm. Reserve your spot early to avoid missing out, by emailing info@bedc.bm or calling 292-5570.
"The event will take place at the BEDC office, located at Sofia House, 48 Church Street, Hamilton – participants are asked to bring their own lunch."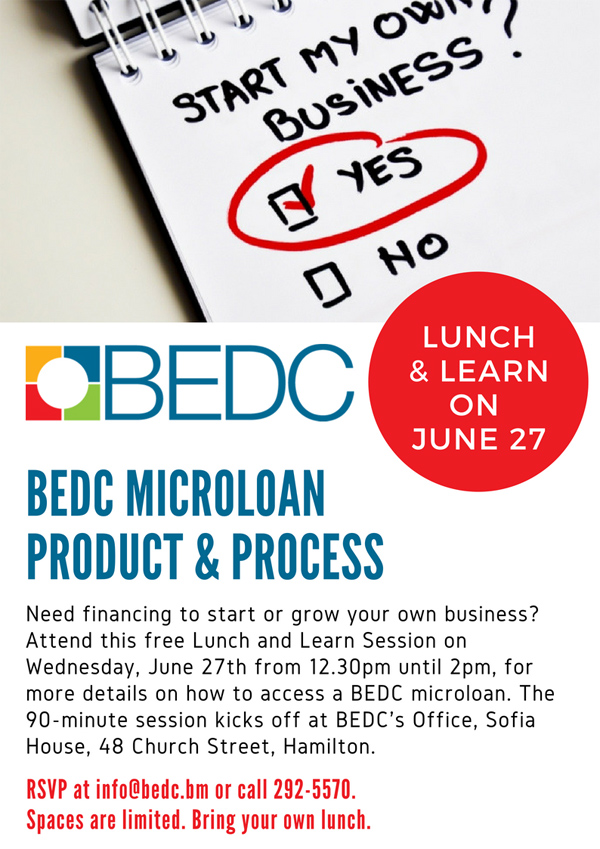 Read More About