Minister of Economic Development and Tourism Jamahl Simmons today [June 27] offered an official send-off to five local vendors selected as the winners of the inaugural Vend 2 Win Competition.
Hosted by the Bermuda Economic Development Corporation [BEDC], the competition will give a handful of Bermudian vendors the chance to travel to New York City, along with representatives from the BEDC Team, to showcase their products at an exclusive Brooklyn vendor's market this Sunday, July 1.
Kelsea Williams, NovelTea; Kayuntae Ming, His N Hers Hair & Beauty; Minister Jamahl Simmons; Channing Dill – Native by ChanningElizabeth and Nina Froncioni – Limestone + Cedar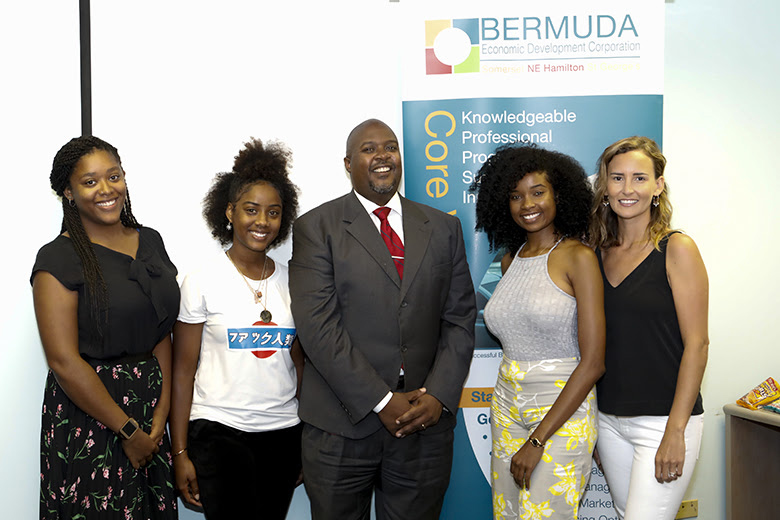 The winners of BEDC's inaugural Vend 2 Win competition include:
Minister Jamahl Simmons congratulated the group and encouraged them to take full advantage of the opportunity to showcase their products and gain international exposure, saying: "This is a fantastic opportunity for you network with New York vendors and use the experience to grow your businesses."
All five local vendors beat out tough competition from more than 30 others at BEDC's free vending market, held on Saturday, May 19th at the BAA Gymnasium. There were originally six winners chosen, including Michiko Campbell of Chiko's Smokey Rub, however Mr. Campbell was unable to travel with the group due to personal and work reasons.
The winners all impressed a secret panel of judges with their booth's presentation, customer service, packaging/display, ability to deal with large crowds and the overall buying experience and will be heading overseas this weekend – from Saturday, June 30 until Monday, July 2.
Kelsea Williams, owner of NovelTea, said she is most looking forward to networking with other young entrepreneurs at this weekend's event.
"I am excited to see what other established vendors are doing and taking that knowledge back to incorporate into my business. If I see any innovative ideas about how to design my booth or improve my packaging and setup, that would be great," she said.
"I also hope to network with some other business owners to see how they are able to operate and grow their businesses and to bring those ideas back to Bermuda to see what the next step forward will be for NovelTea."
Kayuntae Ming, 19, admitted the opportunity to travel overseas with the BEDC meant a lot to her, saying: "The BEDC vendor's market back in May was actually my first experience vending, so for me to be selected to go to New York is really exciting and built up a lot of confidence in me as a young entrepreneur.
"I'm looking forward to going away to show my products abroad, to get as much experience as I can and to apply those skills to what I do here in Bermuda."
The Reserve market is hosted by a group called Driven Society and was established to stimulate business growth for multicultural business owners and to provide a fun, inspiring and interactive experience for guests.
Geared at attracting millennial consumers, including some of New York City's biggest influencers and trendsetters, those who attend the vibrant markets are encouraged to engage with new brands and meet the entrepreneurs behind the products and services.
Read More About