Recently the Minister for the Cabinet Office with Responsibility for Government Reform Lovitta Foggo updated the Public Service on the progress of the Bermuda Government's strategic plan for government reform.
In issuing an organization-wide communique, Minister Foggo advised the Service that, PricewaterhouseCoopers Advisory Limited [PwC Bermuda], in response to a request for proposal, was selected as the resource to assist with completing a Government Reform Strategic Plan.
Minister Foggo held a working meeting recently with relevant partners to discuss the strategic plan for government reform. Minister Foggo [centre] with L to R: Ed Ball, General Secretary of the Bermuda Public Services Union [BPSU], Mike Charles, General Secretary of the Bermuda Union of Teachers [BUT], Kevin Grant, BPSU, Arthur Wightman, PricewaterhouseCoopers Advisory Limited [PwC Bermuda] Leader, Alan Wilkinson, President of the Fire Service Association, Sen. Vance Campbell, JP, and George Thomas, Senior Advisor, PwC. Missing from the photo is Bermuda Industrial Union General Secretary, Molly Burgess, who joined the meeting while in progress.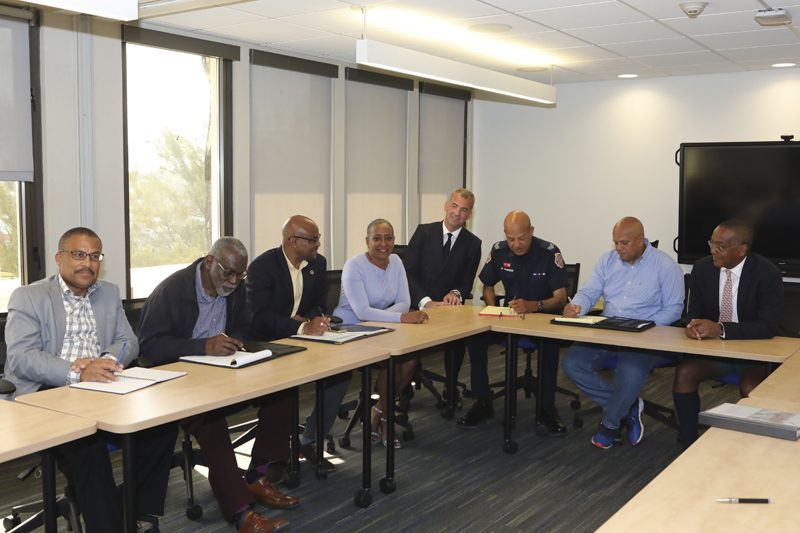 The Minister also highlighted that public officers will be invited to provide their input on the proposed strategic plan. It is anticipated that the planning process will conclude this summer, the Ministry said.
Minister Foggo said today, "We have made some significant and meaningful strides since the planning process began. I have engaged with many of our valued stakeholders, including my Cabinet colleagues, key internal Government personnel and representatives from Government's various union partners. The meetings have been encouraging.
"Ultimately our strategic reform agenda will be guided by the tenets of transparency, agility, accountability, innovation, empowerment and sustainability. Our vision is a future-forward Government for the people of Bermuda. I wish to thank PwC Bermuda for their support in this regard and we look forward to the Public Service's engagement in this process."
Mr. Arthur Wightman, PwC Bermuda Leader, commented, "Governments around the world face many complex issues and are constantly challenged to deliver quality public services in the most efficient way. Public services reform is one of the critical challenges and opportunities facing Bermuda today.
"Central to the PwC network's purpose, we work to solve important problems and build trust in society. Given our long-term focus on the success of Bermuda and evident momentum towards change we decided to contribute our services and expertise without any charge to the public purse.
"We are therefore pleased to work with the Minister and the Public Service to deliver impactful and sustainable solutions which will benefit the people of Bermuda."
The full Letter to the Public Service follows below [PDF here]:
Read More About