Thousands of XL Catlin employees around the world, including here in Bermuda, spent Friday, June 8 working with non-profit organizations in their local communities.
Starting in Australia and continuing throughout the day in various countries and time zones, the employees participated in some 250 diverse projects in approximately 60 locations.
Helping Hands: Several XL Catlin employees spent their Global Day of Giving sorting donated clothing and shoes at PALS Thrift Shop.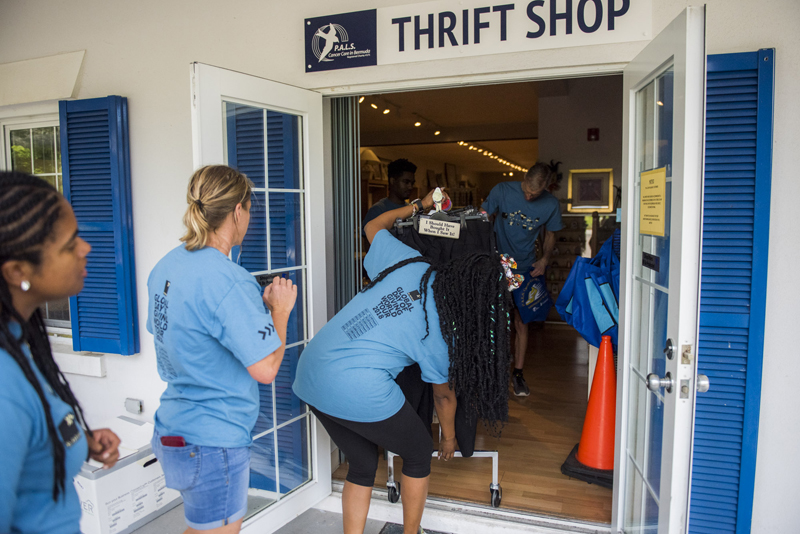 Here in Bermuda, approximately 130 XL Catlin colleagues worked on 13 projects from one end of the island to the other. They included:
National Museum of Bermuda: Continuing pre-restoration work at Casemates Barracks, including clearing away invasive plants which wreak havoc on the historic structures at Casemates.
Keep Bermuda Beautiful ["KBB"]: Partnering with KBB on World Ocean's Day to clean up trash on the beaches and trails of the South Shore in Warwick.
Meals on Wheels: Cooking, preparing, packaging and delivering meals to seniors in need and cleaning up the Meals on Wheels facility.
Bermuda SPCA: Carrying out general maintenance, painting and landscaping as well as organizing and cleaning the Tack Room.
PALS: Sorting and organizing clothing and shoes at PALS' new thrift shop on Point Finger Road.
Eliza DoLittle Society: Cooking and preparing large quantities of meals for distribution to families and individuals in need
Dame Marjorie Bean Hope Academy: Power washing the playground and equipment as well as assisting with the making of teaching aids.
Trunk Island: Clearing shrubs, planting new trees, trimming the trails on the island.
Centre Against Abuse: Supporting the Dress for Success Clothing Drive by spring cleaning the shop on York Street in St. George's and redecorating as well as sorting through donated clothing.
On the Ball: A group of XL Catlin employees, including David Collette and Ravi Pachai pictured here, enjoyed spending the Company's Global Day of Giving cleaning up at Dame Marjorie Bean Hope Academy.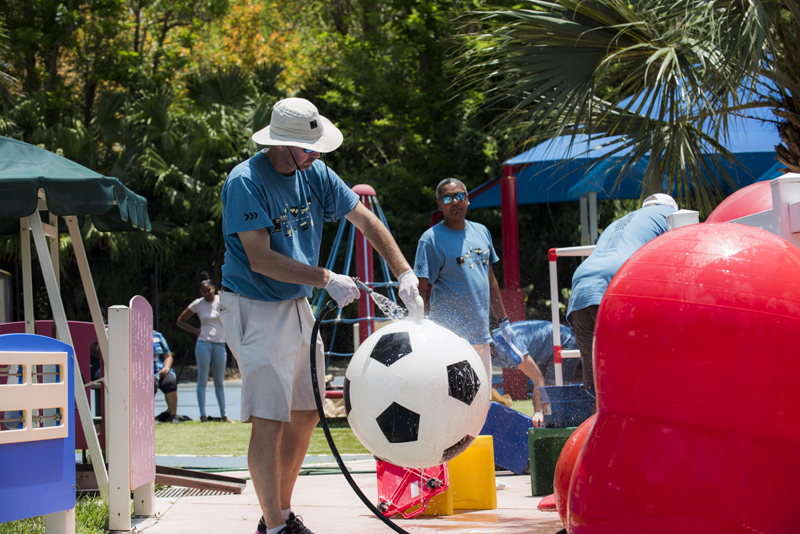 "Even though the Global Day of Giving is in its 13th year, it never gets old," said Patrick Tannock who chairs XL Catlin's Bermuda-based philanthropic unit, the XL Foundation, and this year participated in a project at Windreach.
"Whether we are working on a project that requires hard labor or sharing our skills and expertise, it's such a gratifying feeling to spend time helping non-profit organizations that are working tirelessly year round to make a difference in our local communities despite having to do more with less."
Labor of Love: Some XL Catlin employees are pictured clearing away invasive weeds and shrubs at the old Casemates Barracks in Dockyard.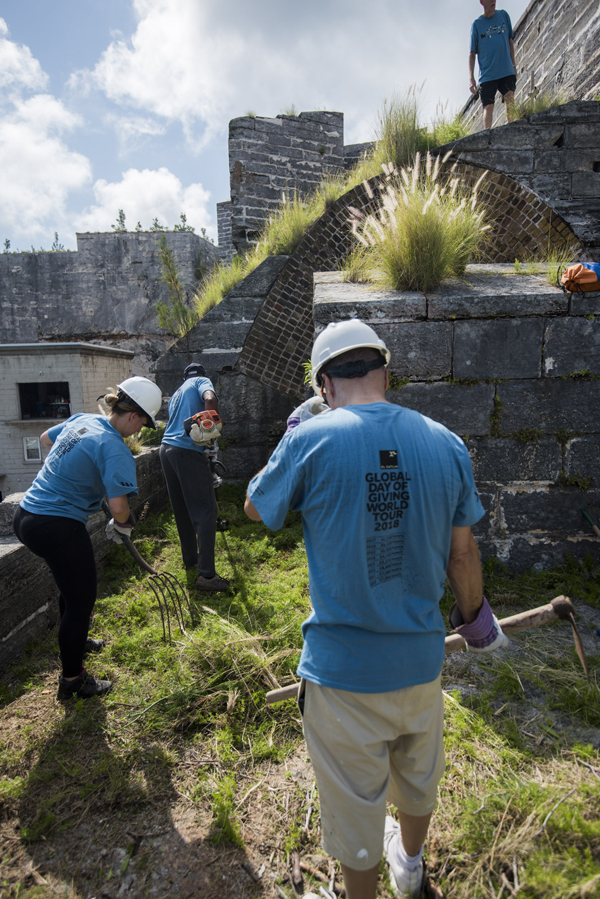 Read More About
Category: All