100 Women in Finance [100WF], a global network of professionals in the finance and alternative investment industries, has donated $32,000 to Tomorrow's Voices, raised at the annual gala event held aboard the Zara last month.
Established in 2007, Tomorrow's Voices was created by parents of autistic children, Mrs. Tricia Simons [Crow] and Ms. Thea Furbert, who identified the need for hands-on Applied Behaviour Analysis/Verbal Behaviour services for children on the autism spectrum.
Recently announced as the Best Early Autism Intervention Program in the Caribbean by UK-based Global Health & Pharma Magazine [GHP] as part of their Social Care Awards, Tomorrow's Voices has been internationally recognised as an organisation that shows the highest level of innovation, compassion and courage in the challenging field of social care.
100WF Philanthropy Committee members Laura Knox Clingerman [Wakefield Quin] and Christine Jack [Deloitte]. Middle row – Sarah Demerling [Estera] and Alison Morrison [Oyster Consulting]. Front row – Thea Furbert and Gillian Kersse [International Financial Planning Bermuda]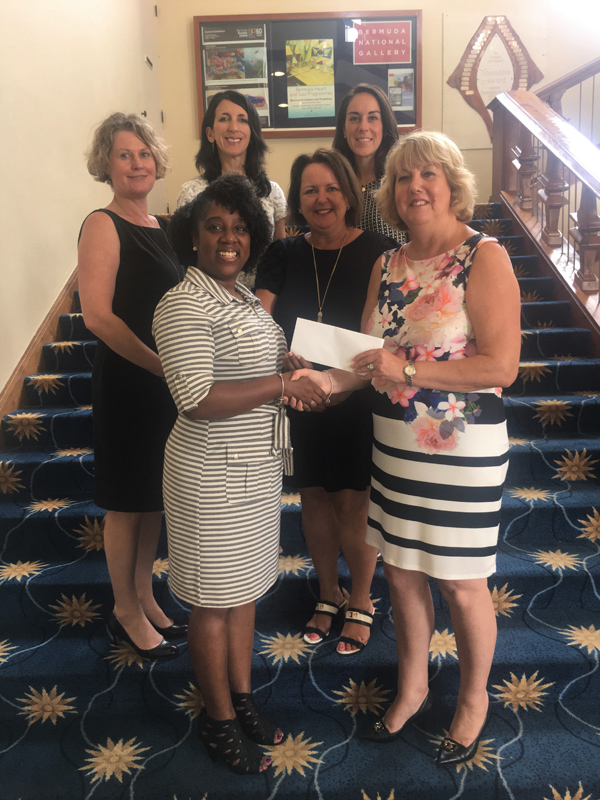 Alison Morrison, 100WF Bermuda Chair, noted, "100 Women in Finance is delighted to support the work carried out by Tomorrow's Voices and help raise awareness of the programs that are so important for children and families in our Bermuda community."
100WF Bermuda Philanthropy Chair Gillian Kersse added, "Our guests had a fabulous evening on the Zara and we are so grateful for the generosity of our gold sponsor, Nephila, and for enthusiastic bidding during our live auction from our supporters across Bermuda's financial services and reinsurance community".
Commenting on its selection as 100WF's 2018 Bermuda beneficiary, Thea Furbert, Co-Founder of Tomorrow's Voices said, "Tomorrow's Voices is honoured to have been chosen to receive this support.
"100WF's financial contribution will assist us in continuing to provide therapeutic services and educational outreach for those with autism and other developmental disabilities. We are truly thankful for this support as it ultimately will provide our clients and their families with resources that will positively affect their lives".
Members of Bermuda's finance and alternative investment industries interested in joining 100WF can learn more about the organization here or by emailing Bermuda@100women.org. Networking and education events in Bermuda are planned throughout 2018.
Read More About