Of the 892 marriages — both local and maritime — processed through the Registry General last year, twelve were same-sex marriages, with ten taking place in Bermuda, and two on Bermuda registered ships.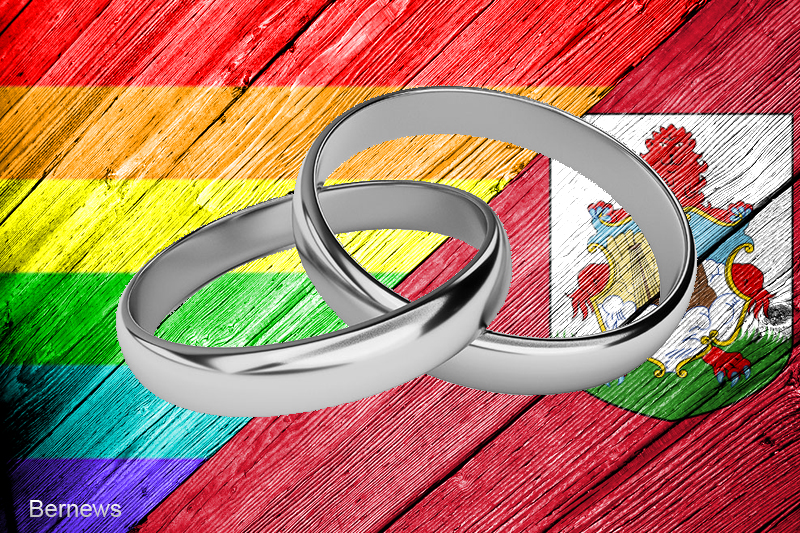 Marriage Statistics 
This is according to the Annual Report of the Registry General for the year ended December 31st, 2017, which was tabled in the House of Assembly by Minister of Home Affairs Walton Brown.
Speaking on the report, the Minister said, "For the year ending 31st December 2017 there were 440 marriages performed in Bermuda.
"Of the total 440 marriages recorded in 2017, ten were same-sex marriages. Eight of the same-sex marriages were performed at the Registry General as civil ceremonies, and the remaining two marriages were religious ceremonies held at a hotel and a home.
"During 2017 same-sex marriages between parties who were both residents accounted for 5 or 50% of the total of 10 marriages. The report also shows that there were two same-sex marriages between non-residents, and three same-sex marriages between a resident and non-resident.
"452 marriages were performed on board twenty three Bermuda registered ships in 2017," Minister Brown said. "Of the 452 maritime marriages, two or 0.4% were same-sex marriage ceremonies.
"The cumulative number of marriages [local and maritime] processed through the Registry General for the year ended 31st December, 2017 was 892 as compared to 918 for the year ending 2016."
Changing SSM Laws
These same-sex marriages would have taken place following the Supreme Court decision in May 2017 which legalised same sex marriage, however the Domestic Partnership Act passed in Bermuda's legislature last year which created domestic partnerships and restricted marriage as between a man and woman, with the DPA taking effect on June 1st of this year.
A challenge to the Domestic Partnership Act was brought, with the Court ruling in favour of it on June 6th to mark the second court ruling in favour of same sex marriage, and on July 5th, the Government confirmed that they have filed an appeal in the case.
Marriage laws also pertain to cruise lines registered in Bermuda — Princess Cruises, Cunard, and P&O — as they also adhere to Bermuda law.

Read More About