The Bermuda Economic Development Corporation [BEDC] announced that it has signed a two-year licensing agreement with U.S. based company Interise to offer its StreetWise 'MBA' Programme to the island's established entrepreneurs.
A spokesperson said, "Bermuda is one of 80 locations throughout North America and the Caribbean to offer this award-winning programme to business owners looking to strengthen and scale their organisations.
"Established in 2004, StreetWise 'MBA' 'utilises an award-winning curriculum and a facilitated peer-learning method to provide small and medium business owners with business knowledge, management know-how and connections needed to grow. Since 2015, the course has been delivered through the Bermuda College's PACE programme, however going forth BEDC will be managing the initiative."
Jamillah Lodge, BEDC's Acting Micro, Small and Medium [MSME] Enterprise Officer, said, "For us, acquiring the licence for Interise's StreetWise 'MBA' Programme is a big deal, in terms of the way it will be marketed and the additional support we can provide as a local hub for all things small business."
Programme manager Valita Brown and Raymond Jones and Jamillah Lodge, both facilitators of the course: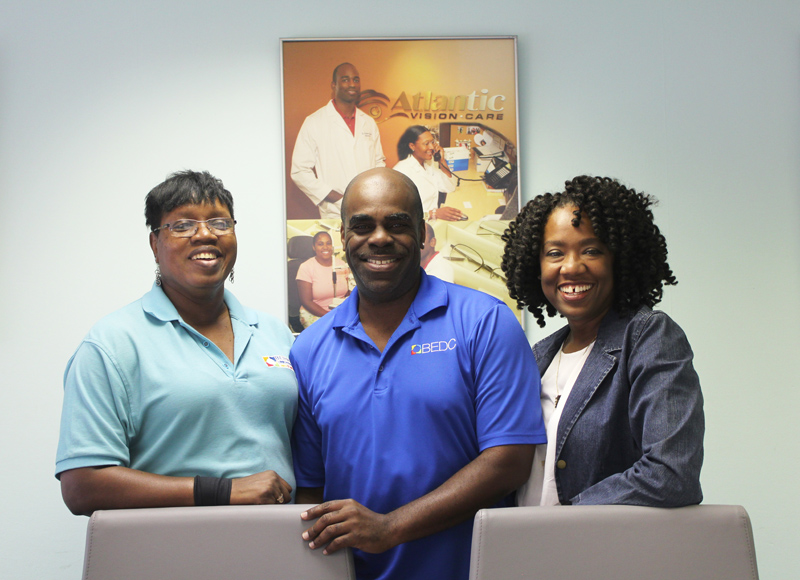 "We believe this programme will add value to the other multi-week courses we offer and allow us to better support entrepreneurs from the ideation stage through to validation and growth, so they can meet their full business potential.
"Overall, we are excited about the opportunity to bring StreetWise 'MBA' in house with full-on support from myself and our Director of Finance, Data, and Administration Ray Jones, who was trained as a new facilitator this past March."
"Interise's StreetWise 'MBA' curriculum walks participants through the process of creating a business strategy, analysing finances, accessing capital, formulating a marketing plan, producing a sales strategy, and much more. Thanks to BEDC's partnerships with the private sector, successful applicants will also have access to some of the Island's top industry experts to help deliver the materials effectively."
Interise CEO, Jean Horstman said, "Interise is excited to be partnering with the Bermuda Economic Development Corporation, and to be able to continue to contribute to the economic health of the country. We have seen the dedication that Bermudan business owners bring to their businesses and are humbled to be part of supporting their continued growth."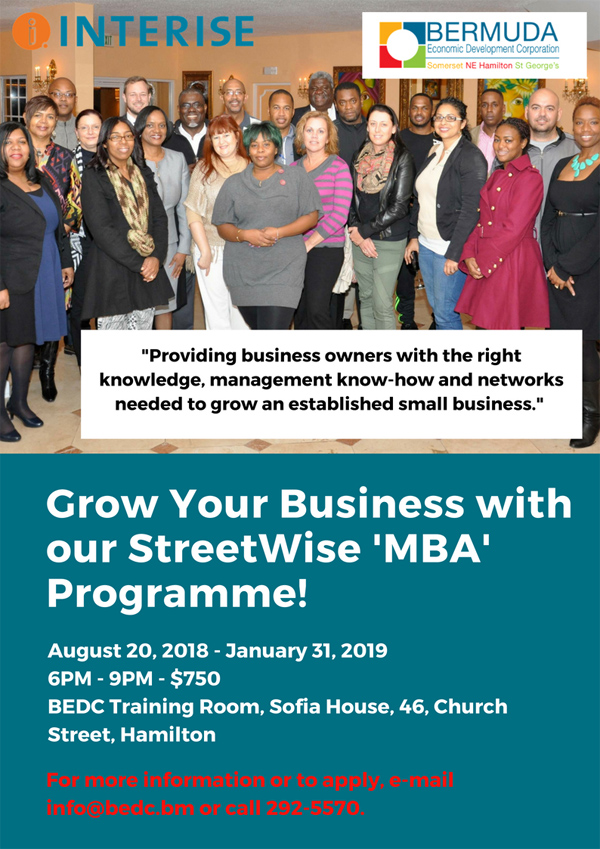 "The next cohort for the 2018 StreetWise 'MBA' Programme begins on Monday, August 20, 2018 and runs on Thursdays from September 6, 2018 until January 31, 2019. Held through 13 sessions over five months, at the end of the course, the aim is for participants to walk away with a customised Strategic Growth Action Plan, showing them necessary steps required to achieve their business goals."
Erica Smith, BEDC's Executive Director, said, "Bringing the StreetWise 'MBA' programme in house is a natural fit for BEDC. It took some advocating and negotiating to move the course to BEDC, but I am very pleased to see how Bermuda's entrepreneurs will benefit from our wealth of tools, resources and expert knowledge. We have also worked hard to bring the cost of the programme down, reducing financial barriers to entry, and hope this will make it as affordable and accessible as possible for participants."
"In order to be eligible for StreetWise 'MBA', candidates must have been in business for over three years, have at least one full-time employee besides the owner and earn a gross annual revenue of less than $5 million [which are most small and medium businesses in Bermuda].
"Ray Jones, BEDC's Finance Director, believes this programme is best suited for those who are beyond the validating stage of business and whom have reached the point of stability in their company through regular revenue streams.
"We are looking for business owners whom have already reached moderate growth, who are thinking of how they can take their operations to the next level," explained Mr. Jones. "This is the ideal course for them, not only because of the calibre of the course materials, but due to the peer to peer learning model, which allows them to liaise with other CEOs in local business."
"Interested participants have between now and Friday, August 10 to apply for the upcoming programme, which if accepted, costs $750. For more information or to apply, call 292-5570 or e-mail info@bedc.bm."
Read More About