On Wednesday July 11, the Bermuda Foundation For Insurance Studies [BFIS] awarded $230,000 in scholarship funding to 10 students focused on careers in Bermuda's insurance sector.
This brings the total amount of funding that the Foundation has awarded since the charity was founded 22 years ago to nearly $6.5 million.
The total number of current BFIS scholars now at college is 31, which is a funding commitment of $480,000. BFIS has now assisted 189 students with scholarship funding and, with 10 BFIS scholars graduating this year, 152 alumni are now employed in the insurance sector and related industries.
The BFIS Scholarship Awards Reception, attended by over 80 guests including BFIS donors, trustees, committee members, mentors, alumni, the new awardees and their parents, was held at O'Hara House, courtesy of XL Catlin.
BFIS 2018 Scholarship Recipients [left to right] Busayo Salawu, Zya Fraser, Grace Francoeur, Malini Romeo, Amon Wedderburn, Somer Froud, Miles Cave, Ava Marshall and Sydney Mason. [Missing: Rajah Steede]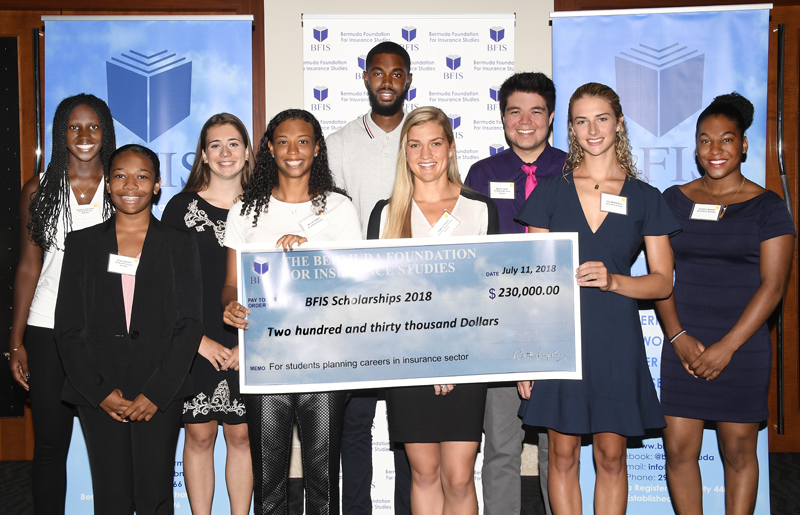 Gail Martin, BFIS Chairman, started the event by highlighting the reason BFIS was created, which was to provide financial support and guidance for Bermudian students so that they would have the opportunity to obtain the appropriate education and training in order to pursue an insurance-related career. She went on to thank the Scholarship Committee for their difficult task in selecting the recipients.
Dr. Duranda Greene, Chairman of the BFIS Scholarship Committee, in presenting the BFIS awards noted that, "We received 75 applications of which 34 were freshmen, 18 sophomores, 20 juniors and 3 seniors and from those 27 students were interviewed.
"The standard was extremely high and the committee looks for students of outstanding ability, not only extremely sound academically, but also well rounded, excelling in their individual pastimes of sports, music and philanthropic endeavours. They need to be able to clearly articulate their interest in a career in the insurance sector so both the essay and the interview are extremely important to the review process."
BFIS Overseas Scholarships were awarded to: Grace Francoeur [Finance / McGill, Canada], Ava Marshall [Finance / Queen's, Canada], Sydney Mason [Politics and International Relations / Southampton, UK], Malini Romeo [Economics / British Columbia, Canada].
This year there were six 'named' awards from BFIS donor companies: the BFIS Argo Scholarship awarded to Somer Froud [IT Management / West of England, UK]; the BFIS Aspen Scholarship to Amon Wedderburn [Insurance and Risk Management / St. John's, USA]; the BFIS AXIS Scholarship to Busayo Salawu [Actuarial Science / Southampton, UK]; the BFIS MS Amlin Scholarships were awarded to Rajah Steede [Insurance and Risk Management / Georgia State, USA] and Miles Cave [Actuarial Science / Queen Mary, UK].
The BFIS Alumni Association Scholarship, funded with money raised by BFIS Alumni mostly though their annual Denim Day, was awarded to Zya Fraser [Finance / Georgia State].
Closing speakers were Jonathan Allen, Co-chair of the BFIS Mentor Network Committee and BFIS Scholar 2000, who spoke about the work the committee does and how important it is for students to network at every opportunity. He also highlighted the opportunity students have to learn from their mentors – not only their career successes but also any mis-steps they made along the way.
Allen was followed by Meagan Stecko, BFIS Scholar 2016 and BFIS Bermuda Intern 2018, who highlighted the importance of taking advantage of all BFIS has to offer in terms of support and programmes from networking to resume reviews and finding employment. She encouraged the new scholars to take full advantage of Cathy Lapsley and Jane Bielby at the BFIS office and are always there to call on for advice and assistance.
BFIS President Stephen Jones congratulated the new scholars and thanked Cathy Lapsley, BFIS Executive Director and Jane Bielby, BFIS Administrator for their continuing hard work, professionalism and dedication in the running of BFIS and all its programmes.

Read More About