Hamilton town crier Ed Christopher has won the first National Town Crier Competition in Helmsley in the United Kingdom, laying claim to the Magna Carta Trophy after beating out the competition's 19 other entrants.
The event was held at the Helmsley Walled Garden on Saturday, July 21, with international town criers taking part by representing their towns.
A story in Minster FM said, "Helmsley's first National Town Crier Competition, which attracted 20 town crier entrants from across the world, has been hailed a great success by The Ancient & Honourable Guild Of Town Criers, visitors to the event, sponsors and proud Helmsley residents."
Ed Christopher with Magna Carter Trophy [photo courtesy Minster FM]: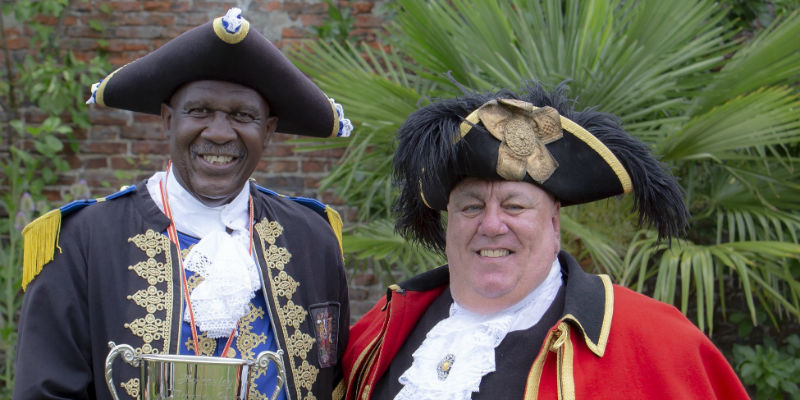 "Taking place on 21st July, hundreds of residents and visitors to the town were entertained by a series of cries from the competitors, which included international town criers, as well as ones from all over England.
"In a very closely run competition, the winner of the overall Magna Carta Trophy was the flamboyant 6ft 7in Ed Christopher, the town crier for Hamilton in Bermuda, who also won the Best Dressed Town Crier award.
"As well as undertaking a 'Home Cry' about the town they represent, the competitors had to perform a cry about Helmsley's strong link to the Magna Carta.
"Taking place at the Helmsley Walled Gardens at the weekend, it was believed to be the largest town crier competition to take place in Yorkshire for many decades."
Read More About