A Farm Aid event is set to be held during the Cup Match holiday, with a concert taking place on August 2 with its proceeds going directly toward "enhancing the Bermuda farming industry."
The event will be presented by Island Restaurant Group, Green Land Dairy, Amaral's Farm, Westover Farm and Wadson's Farm in association with Seymours Farm, Aquaponics Bermuda, Almeida Dairy, Rosas Cantina, Generosa's Cuisine, J&J Produce, and Roots Farming and Development, with the concert's performers to include Stone Love from Jamaica, Juggling Jason Magic from Soul Jah One, and Supatone.
The concert will take place at the Prison Officers Club Pavilion from 7.00pm to 9.30pm on August 2.
A spokesperson said, "The event is headed up by Richard Bascome of Westover Farm. He says that they have received support from the majority of the farming entities and restaurants; in addition we have engaged global arts entertainment to handle marketing and promotion.
"Please support our farms, agriculture, and future and enjoy complementary dinner plates made with local produce. Our intention is to generate a higher sense of awareness, pay tribute to generations of farming in Bermuda, and set up a general charity that serves all farming developmental needs.
"Proceeds will go directly toward enhancing the Bermuda farming industry. The local farmers would like to make these points known:
"80% of our fresh food is imported, however we are not really sure where it all comes from. 20% of our food is raised and grown right here at home by local farmers from our own soil; let's increase that stat.
"Bermuda produces 100% of its own fresh milk through dairy farmers. They all send the milk to Dunkley's where it gets pasturized, homogenized and then placed on your grocery store shelf.
"There is no one that can guarantee the arrival of the ships to Bermuda. Therefore our local farmers are constantly working to increase production and quality, all within a limited space."
Tickets are $30 in advance and $50 at the gate and are available from ptix.bm, Caesars Pharmacy, and 27th Century Boutique.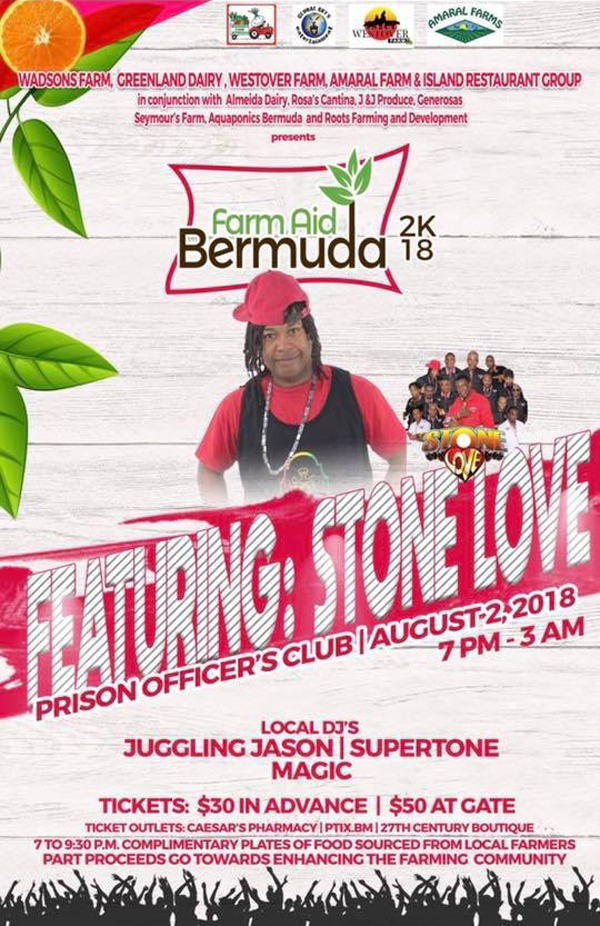 Read More About
Category: All, Entertainment, Environment, News