In the eighth in a series of profiles of netball players who will be a part of the team representing Bermuda in the USA Netball U21 International Development Series being held in Fort Lauderdale, Florida from July 23 to 25, we spotlight Chrysda Smith, a 16-year-old who plays in the Wing Defence and Goal Defence positions.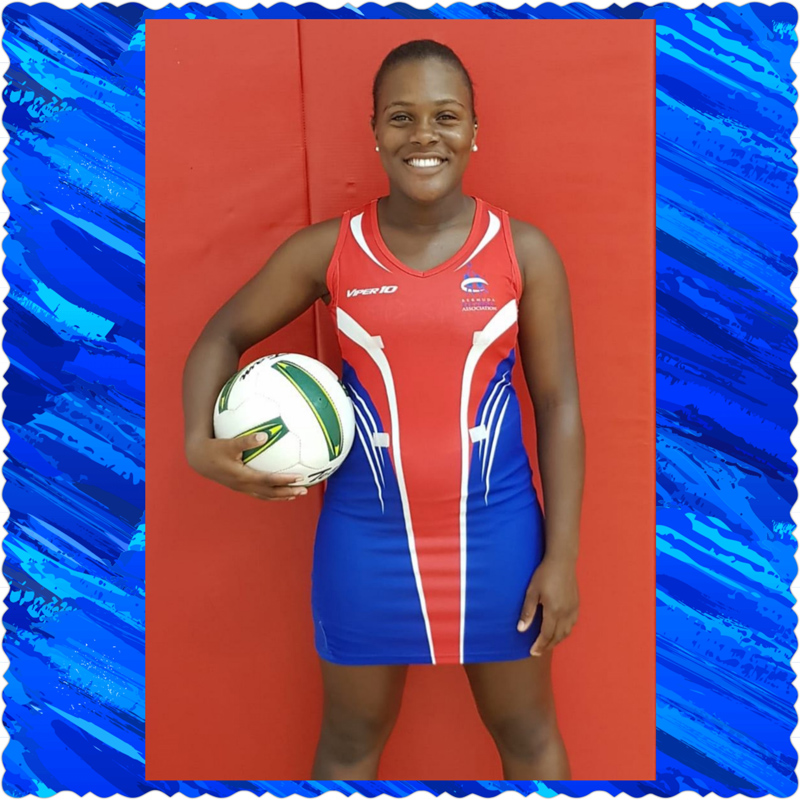 1. How does it feel to have been selected for the squad?
I have wanted to have the opportunity to travel for netball for as long as I can remember! When I initially began training with the squad, I believed that the likelihood of being selected wasn't very promising. However, I am extremely blessed and thankful to be selected. Being selected reflects/shows how the national squad training has fostered an abundance of growth in my overall game.
2. How will you prepare for the competition between now and July 21st?
Preparing for the competition will require a change in my eating habits, increasing the fitness which I do outside of trainings, as well as watching netball videos online to analyze how the game is played internationally. My fitness level isn't where I want to be as of yet and I think that altering what I eat and going on more runs will help it to build back up to where it used to be.
3. When did you start playing netball and what prompted you to start?
I started playing netball at Harrington Sound Primary School when I was approximately eight years old where my gym teacher, Miss Linda Hines, encouraged me to play. I was then encouraged to play league netball by my cousin Shi-Vaughn Lee who was playing for Netts Netball Club at the time. She invited me to training one night at Somersfield Academy school gym and I have been playing ever since!
4. Do you feel the sport of netball gets enough support from the local community?
I believe that netball does receive support from the local community. However, it isn't a prominent sport in our country and many Bermudians aren't aware of the level at which we play at, therefore leading to the lack of support which we could potentially receive from our Government even, if people were more aware of what the game consist of and the effort that we put into this sport.
5. What are ultimate goals in life, both on and off the court?
My short term goal is to perform well on my International Baccalaureate exams next Spring in order to attend college in Canada where I can attain an undergraduate degree. My middle term goal is to transfer to the United Kingdom to attain a law degree. My long term goal is to pursue the career of a lawyer in Bermuda. On the court, my goals are to be a great defender and to continuously work hard for myself, for my team and for my country.
6. If you had to, for some reason, have one non-netball player on your team, like a local politician/entertainer/public figure, who would you choose and why?
I would choose Lakae Tavares. She was the captain of the Bermuda Women's National Field Hockey Team which travelled to Jamaica last November to participate in the Central American and Caribbean Qualifying Games. This was my first opportunity to represent my country in a sport that I love and she was an exemplary captain. Although being one of the more senior members on the team, she is one of the best defenders and overall players. Despite injuries, she continuously gave her all, fought harder and was full of energy. She exemplifies determination and passion for the sport that she plays and I admire her for that.
7. Which Bermudian athlete, coach or sporting figure do you admire most and why?
I admire coach Tanika White. I am very responsive to the constructive criticism that she provides me. She has the ability to play all of the positions on the court, but defensively, she always gives me small tips and pointers which are extremely helpful and effective which have improved my skill tremendously. She is also very encouraging and provides an uplifting spirit to our team. On and off of the court, she has a beautiful personality and radiates positive energy. She never fails to put a smile on my face!

Read More About