Hazel Clark, Nadia Hall, Kristin McSweeney, Rohan Shastri, and Keisha Webb have all joined the Bermuda Tourism Authority, the BTA announced today.
The BTA said, "Five of the six new roles created at the Bermuda Tourism Authority as part of a budget neutral restructuring plan that began in January are now filled.
"The changes were designed to make the organisation more responsive to market trends and better positioned to improve its return on investment for Bermuda.
"To accomplish these goals three specific strategies are underway: Facilitate further growth in sports tourism; Shift toward market intelligence-driven sales, and strengthen content creation
"As part of the implementation of this plan, the Bermuda Tourism Authority is pleased to announce the following new or recent members of the team:
Hazel Clark, Nadia Hall, Kristin McSweeney, Rohan Shastri, and Keisha Webb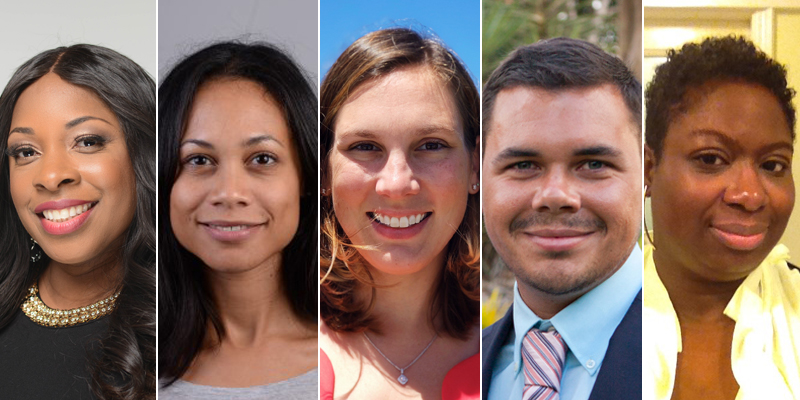 "Three-time Olympian Hazel Clark joins the Bermuda Tourism Authority on July 23rd as its first Director of Sports Business Development. As part of the sales and marketing team, Ms. Clark will devise and execute strategies for the growth of sports tourism in Bermuda, including sporting events and sports training opportunities.
"She brings a wealth of international experience to the role, not only as a professional track and field athlete, but also as a former U.S. Sports Envoy, Executive Director of the Georgia Track Club, Coca-Cola Global Sports Marketing Associate, and as former Director of the Georgia Meet of Champions [GMOC].
"Nadia Hall began with the Bermuda Tourism Authority as a Content Specialist in May to assist with developing articles, printed collateral, and content for the social media channels that are managed by the sales and marketing team on a daily basis. She most recently worked at The Royal Gazette as an accomplished news and lifestyles reporter. She has extensive experience with photography and videography.
"Kristin McSweeney joined the Bermuda Tourism Authority in April as Business Analyst & CRM Specialist. This research and business intelligence role requires a unique set of skills in data management and the Bermuda Tourism Authority was fortunate to find a local candidate who most recently worked with Salesforce in the United States.
"Since April, Kristin has been overseeing the quality and consistency of data used to drive the organisation's sales and marketing efforts and will help to improve the overall return on investment.
"Rohan Shastri is also now a Content Specialist for the Bermuda Tourism Authority, but focused on photo and video content, which is key to driving engagement with Bermuda's target audiences. He started last month. Rohan is a skilled videographer and photographer having started his own Bermuda production company in 2011 and working most recently as museums manager for the Bermuda National Trust.
"Keisha Webb has joined the Bermuda Tourism Authority's product and experiences team as Destination Services Manager. The objective of this role is to enhance the experience of groups visiting the island because their volume of visitors and spending power are critical to the success of the local tourism industry.
"Ms. Webb works with groups in a variety of ways, including assistance with government policies and the coordination of on-island vendors. Keisha started in April having formerly worked at Rosewood Bermuda, Gibbons Company and Clarien Bank.
"Three of the five new hires are Bermudians and the remaining two are spouses of Bermudians," the BTA added.
Earlier this year, the BTA confirmed that four job positions were being eliminated, and six new positions were being created, with the BTA saying the "reorganisation is about modernising the structure of the Bermuda Tourism Authority for the first time since its inception in 2014."
At that time, the BTA said the four job positions that are being eliminated consisted of three staff positions and one contracted position, while "six new roles were created," and when asked if this will create a change in expenses, the BTA said no, the changes are "budget neutral."
Bermuda Tourism Authority CEO Kevin Dallas said: "I hope all tourism industry stakeholders will join us in warmly welcoming these talented professionals into the Bermuda Tourism Authority. They are a critical part of our ambitious plans to continue what is now the third consecutive year of growth for Bermuda's tourism industry."
An organisational chart [PDF] is available on the Bermuda Tourism Authority website.

Read More About