BCB President, Lloyd Smith, congratulated St. David's CCC and Flatts VRC on claiming the inaugural One Communications Championship Cup Trophies for the Premier and First Division Cup respectively.
The winning teams receive $500, the runners-up $250 each and the MVP's a cheque for $100.
In the Premier Cup hosted at Wellington Oval a crowd enjoyed League runners-up St. David's defeating champions Southampton Rangers by 4 wickets.
St. David's dismissed Southampton for 155 in a game reduced to 45 overs due a brief rain interruption. Man of the match Rudell Pitcher and all-rounder George O'Brien rescued St. David's from a precarious 76 for 6 to the DLS adjusted target score.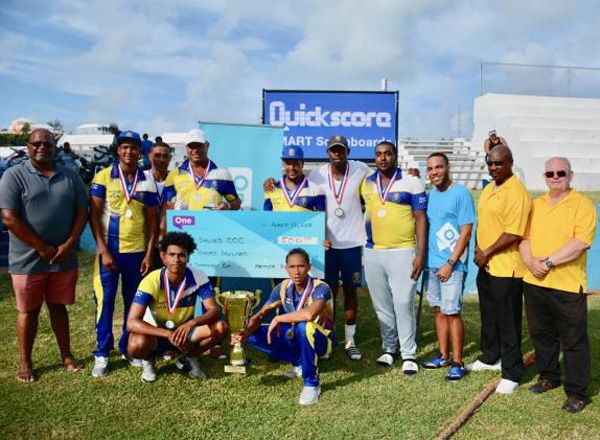 The First Division Championship Cup match between Cleveland CCC and Flatts VRC also saw the league runners-up defeating the champions to claim the coveted trophy.
Flatts were inserted by Cleveland and scored 223 for 9 in their 50 overs lead by Kamau Leverock's 68 runs. The Flatts bowlers then dismissed Cleveland for 135 runs to secure a comfortable victory.
Mr. Smith said: "I am very pleased with One Communication coming forward and helping to providing more opportunity and exposure for our senior domestic players. Both matches were very well supported and hard-fought by all 4 teams. "

Read More About