[Written by Angela Young]
Dr. Carla Bean, Lindsay Vieira, Darius Richardson and Cal Blankendal will tackle the third panel topic of "Co-parenting for Your Child's Success" at KICS Live—The Conference.
KICS Live—The Conference is set to be held on September 1, 2018 at the Bermuda Underwater Exploration Institute, witih the guest panel to be featured at the event to include clinical psychologists, a psychiatrist, a former footballer, an accountant, a nurse and others.
KICS Live—The Conference will focus on the top five concerns facing parents today: Raising a BOSS, Decoding Gen-Z, Co-Parenting for Your Child's Success, Boys 2 Men and Daddy's Girl. Due to the sensitivity of these topics, the conference is geared towards adults only. Doors open at 9:00 am and the panel discussions will kick off at 10:00 am through to 5:30 pm. No ticket sales at the door.
Tickets to KICS Live—The Conference can be purchased at www.kicssystems.com as well as the full profiles of the event's guest panelists.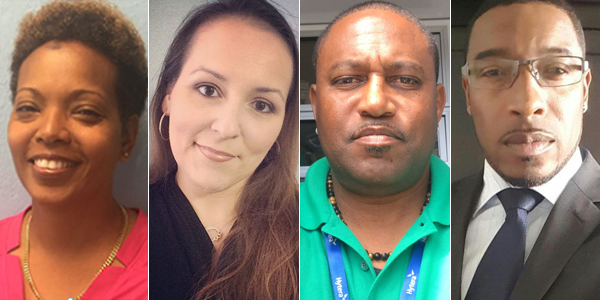 For our third panel reveal, we will highlight the guest panelists for the "Co-parenting for Your Child's Success" panel:
Dr. Carla Bean
Dr. Carla Bean has over 25 years of experience working in the behavioral health field with the child and adolescent population, as well as adults across the diagnostic spectrum. She has done extensive forensic work with child custody, abuse and juvenile corrections cases in various court systems within the United States. Prior to her move to Bermuda, Dr. Bean ran a private practice where she treated both children and adults. She also held a position as child psychologist at the Children's Specialized Hospital in New Jersey. In addition, Dr. Bean has had several years of experience providing treatment to individuals and families affected by autism spectrum disorders. Dr. Bean's current position as clinical psychologist for Mid-Atlantic Wellness Institute [MWI] Child and Adolescent Services [CAS] involves treatment and consultation for the outpatient and inpatient population, as well as the Day Programme and Autism Clinic.
Lindsay Vieira
Ms. Lindsay Vieira strongly believes that good communication is the key to co-parenting. Lindsay is the Vice President of a family-owned cleaning and landscaping business, "ACE" Cleaning & Landscaping Ltd. The senior executive has three children: 13-year-old daughter, 11-year-old son and 3-year-old son. In her spare time, Lindsay shared that she likes taking the children to the beach or somewhere fun. In her spare time, Lindsay prefers hanging with her girlfriends to simply catchup. "They're moms, too, so it always helps to be able to share stories about life's trials and tribulations," Lindsay stated. "I ensure that the people that are in my life are understanding, respectful, encouraging and have a great sense of humor."
Darius Richardson
Known for his straight talk, Darius Richardson quickly admits that he has learned some tough life lessons. From domestic violence to divorce and drummer instructor to motivational speaker, Darius admits that he has fallen short in some areas, but it has made him a better man. Darius credits these insights from the following scripture: "When pride comes, then comes disgrace, but with humility comes wisdom." [Proverbs 11:2, NIV]
His life story is featured in a book entitled, Unclenching Our Fists by US author, Sara Elinoff Acker. The book centers around 11 men who give first-hand accounts of their abusive and controlling behaviors; while simultaneously offering a message of hope. Today, the EMT professional has expanded his efforts to several local programs: Lead Facilitator for Men in Motion, Chairman of the Annual Teen Awards for the "Most Progress and Perseverance" category, and Program Director of The Change Ya Mind, Change Ya Life. He has four children: a 29-year-old- daughter along with three sons aged 26, 19, and 17.
Cal Blankendal
Cal Blankendal is an avid sports fan who is actively involved in the development of sports in Bermuda. His keen interest in sports, led him to becoming a past President of the Western Stars Sports Club [Dandy Town] and Bermuda Football Association [BFA] 1st Vice President. Since 2009, Cal continues to serve as the CEO of Bermuda's Brazilian Football School. In 2011, Cal established Bermuda's Sports Management Group providing consultancy to local and international sports/academic organizations. His main objectives are to advance Bermuda's technical and administrative development in sport and to offer a support network for student athletes.
Read More About