The 2018 Concacaf Women's Championship will resume play today [Aug 25] in Jamaica, with five teams – Bermuda, Antigua & Barbuda, Cuba, Jamaica and Trinidad and Tobago – competing for the top three spots and berths in the 2018 Concacaf Women's Championship.
Two days after the start of the Caribbean Zone, the Central American teams will begin action. Two spots are up for grabs among four teams: Costa Rica, El Salvador, Nicaragua and Panama. The Caribbean qualifier will conclude Sunday, September 2, while the Central American qualifier will wrap up on Friday, August 31.
Bermuda's first match will be against hosts Jamaica on August 27th, two days later they will take on Cuba, on August 31st the Lady Gombey Warriors will play Antigua and Barbuda, and then Bermuda will play against Trinidad and Tobago.
Bermuda's team includes Teyah Lindo, Taznae Fubler, Chelsea Harvey, Micah Pond, Symira Lowe Darrell, Akeyla Furbert, Khyla Brangman, Aaliyah Simons, Ember Butterfield, Eva Frazzoni, Deshae Darrell, Nia Christopher, Victoria Davis, Jade Stewart, Trinae Edwards, Dazarre Place, Kennesha Nanette, Keunna Dill, K'shaela Burch Waldron, and Marley Christian.
Concacaf Women's Championship Qualifying Schedules [PDF here]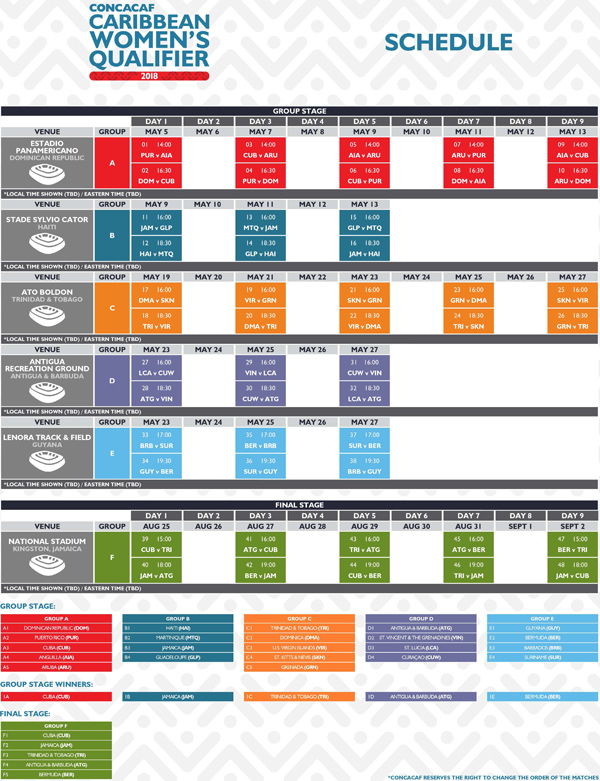 Read More About