[Written by Angela Young]
Dr. Darrien Ray, Ronald Simmons, Andrew Mellor, Craig Smith and Darius Richardson make up our all-male and final panel at KICS Live—The Conference: "Daddy's Girl".
KICS Live—The Conference will take place on Saturday, September 1, 2018 at the Bermuda Underwater Exploration Institute, witih the guest panel to be featured at the event to include clinical psychologists, an accountant, an EMT, and a senior underwriter and others.
KICS Live—The Conference will focus on the top five concerns facing parents today: Raising a BOSS, Decoding Gen-Z, Co-Parenting for Your Child's Success, Boys 2 Men and Daddy's Girl. Due to the sensitivity of these topics, the conference is geared towards adults only. Doors open at 9:00 am and the panel discussions will kick off at 10:00 am through to 5:30 pm. No ticket sales at the door.
Tickets to KICS Live—The Conference can be purchased on the bit.ly/KICSLive as well as the full profiles of the event's guest panelists.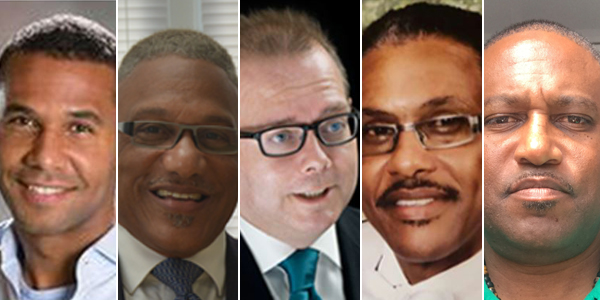 Concluding our panel reveal series, we will highlight the guest panelists for the "Daddy's Girl" panel:
Dr. Darrien Ray
Dr. Darrien S. Ray is a registered clinical psychologist who works with children and adolescents who may struggle with behavioral or emotional problems. He has experience helping families with relational problems and works with parents and children to establish a healthy, positive environment. Dr. Ray treats adult patients who may have depression, anxiety, or problems with anger management. He works with individuals with personality disorders who may struggle in their home, social, or work environment. Dr. Ray also works with trauma victims (both adult and children).
Ronald Simmons
Ronald Simmons is the Managing Partner of Moore Stephens & Butterfield, Chartered Professional Accountants, Bermuda. Professionally, he is a chartered professional accountant and is a member of CPAB, AICP, and GSCPA accounting bodies. And, in 2008, he became a Justice of the Peace. His career spans nearly three decades and Ronald has acquired expertise in the financial industry; including banking and reinsurance. This has resulted in Ronald serving in several capacities such as his current role as Chairman of the Tax Reform Commission and former positions as Director of the Bermuda Monetary Authority, Chaired the Corporate Governance and Ethics Committee and Chairman of the Telecommunications Commission, just to mention a few. Ronald keeps abreast of international economic developments, is politically astute, an avid traveler and enjoys sports of all kinds. He is married and has one daughter.
Andrew Mellor
Born 1971 in the UK, where he lived for the first 33 years of his life in the London area. After leaving University with a degree in Japanese and Classics, Andrew joined a Lloyd's Syndicate to underwrite catastrophe reinsurance, which he still does today, nearly 25 years later. In 2004, he started a temporary secondment to Bermuda, which felt a little like coming home, as his mother's side of the family has Bermuda in its blood. Some 14 years later, the secondment has become permanent, having met his wife at work and they have been married 8 years. They have two children: one young adult son and a twelve-year-old daughter.
Craig Smith
Craig Smith is a mason by trade, and has worked in this industry for well over 30 years, beginning as a labourer and eventually owning his own contracting business: CAS Construction. He also spent seven years working as a Building Inspector for the Bermuda Government Department of Planning. Craig has built, renovated, or inspected hundreds of homes in Bermuda, and is admired for his honesty, integrity, and skill.
Craig is a family man. He is the ninth of 10 children born to the late Elva Smith, and is the first of 3 children born to the late Winslow Wales. Craig is married to his high school sweetheart, Melody Smith, is father to two adult children, and has one granddaughter. Craig is a faithful member of the Devonshire Seventh-day Adventist Church and has served in various positions including Head Deacon, Personal Ministries Leader, Trustee for the Bermuda Conference, and most recently Elder. Above all else, Craig loves the Lord, and is committed to serving Him in all that he does.
Darius Richardson
Known for his straight talk, Darius Richardson quickly admits that he has learned some tough life lessons. From domestic violence to divorce and drummer instructor to motivational speaker, Darius admits that he has fallen short in some areas, but it has made him a better man. Darius credits these insights from the following scripture: "When pride comes, then comes disgrace, but with humility comes wisdom." [Proverbs 11:2, NIV]
His life story is featured in a book entitled, Unclenching Our Fists by US author, Sara Elinoff Acker. The book centers around 11 men who give first-hand accounts of their abusive and controlling behaviors; while simultaneously offering a message of hope. Today, the EMT professional has expanded his efforts to several local programs: Lead Facilitator for Men in Motion, Chairman of the Annual Teen Awards for the "Most Progress and Perseverance" category, and Program Director of The Change Ya Mind, Change Ya Life. He has four children: a 29-year-old- daughter along with three sons aged 26, 19, and 17.
Read More About
Category: All