If you have an idea for an authentic cultural experience or unique excursion to offer visitors to Bermuda in 2019, then an upcoming seminar may interest you.
The Bermuda Economic Development Corporation [BEDC] is teaming up with industry stakeholders, to offer an interactive two-hour event on 'How To Create And Sell An Excursion Package', taking place at the World Heritage Centre in St. George's on Tuesday, August 28th from 6pm until 8pm.
Facilitator Raymond Lambert, BEDC's Acting Micro, Small & Medium Enterprise [MSME] Director, said the event aims to empower and equip people with tools to best seize new opportunities arising in the Island's tourism sector. It also seeks to get entrepreneurs to start thinking creatively and proactively about what part they can play in the growing hospitality industry.
The BEDC said, "Vikings Cruises is soon set to be accepting bids for new excursion packages, ahead of its Bermuda voyages in 2019. The Switzerland-based cruise operator will be staying at ports in St. George's and Hamilton during its multiple visits next year.
"Additionally, the Bermuda Tourism Authority has announced it will be accepting applications for entrepreneurs looking to receive investment funds or marketing support for their ideas, as part of the Tourism Experiences Investment Programme between September 1 and September 30, so this seminar will be a great resource to strengthen those applications."
Mr. Lambert said: "BEDC is always looking for ways to help local entrepreneurs make the most of new business opportunities that arise.
"In keeping with this, the upcoming information session on August 28th will give us a chance to partner with key stakeholders in the tourism community to offer useful knowledge and resources for those looking to expand their offerings.
"This advice will not only help business owners appropriately price and market their products or services, it will also set their business up for financial success in 2019 and beyond."
The event is expected to be a popular one, especially considering the high volume of entrepreneurial minded people in Bermuda, said BTA's Hub One Tourism Manager Kristin White.
Ms White, a presenter at next Tuesday's event, said: "We want entrepreneurs to start thinking outside the box about what high value cultural experiences they can offer our visitors going forward. That's why we are filling this seminar with engaging and useful information.
"We hope people will leave this seminar feeling empowered and inspired to create a tourism-based excursion or experience that will stand out and be remembered by our first time and repeat visitors. We want attendees to gain a deeper understanding into the logistics behind launching a business and the steps necessary to sell their one-of-a-kind Bermuda experience."
Also present at next week's event will be local tour operators: Island Tour Centre; Winnow; and Meyer Tours. They will be on hand to raise awareness on how entrepreneurs can get their services listed through those popular platforms.
Ms White added, "This is a great time for entrepreneurs in the tourism industry and we want people to come away from this excited about the new possibilities, as a number of new cruise lines are being introduced to Bermuda and visitor numbers continue to rise. If someone has been sitting on a great idea for some time, we hope they will leave this session prepared to take action."
Next Tuesday's event is free to attend, however spaces are limited. To register your spot, call 292-5570 or e-mail info@bedc.bm.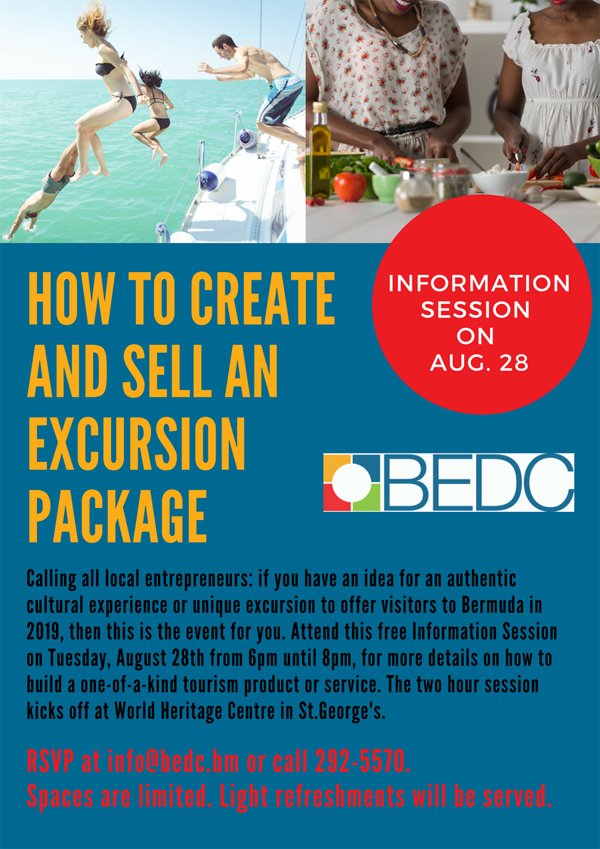 Read More About