Baseball player Adam Hall extended his hitting streak to 19 games, MILB.com noted, adding that he's batting .456 during the streak to raise his season average to .304.
Their report said, "Adam Hall is squeezing all he can out of the month of August. After going 0-for-4 on Aug. 2, he hasn't looked back.
"The Orioles' No. 27 prospect extended his hitting streak to 19 games by collecting a career-high four knocks and scored twice as Class A Short Season Aberdeen rolled past Tri-City, 10-1, on Tuesday at Joseph L. Bruno Stadium. He's batting .456 during the streak to raise his season average to .304.
Adam Hall has moved into fifth place in the New York-Penn League with a .304 batting average. Photo courtesy of Sandy Tambone/MiLB.com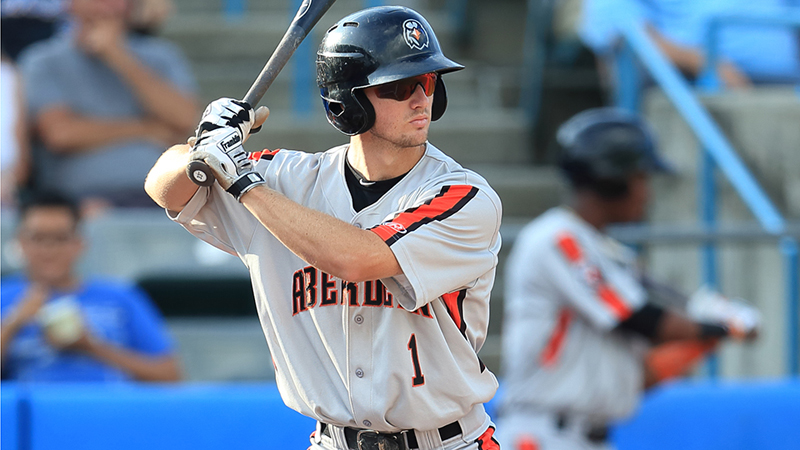 "How you finish is far more important than how you start, and he's finishing like a pro," Aberdeen manager Kyle Moore said. "I tell my guys that there's a lot of money to be made in August, and his August has been his best month of the year."
"The most important thing is he's relaxed and focused on the right things, rather than pressing for hits and results," he said. "He's in a process-oriented mind-set and is just looking to get a good swing. He's preparing like a pro, and that's showing up in his development."
"He's aware, he's a smart kid, so he knows what's going on, but he's focused on the right things and is just riding things out," Moore said. "What he can do there for us is set the tone and when he gets a competitive at-bat and drives it, it's awesome for his teammates to see that and it jump-starts them. He's been doing that for our club the whole month."
"After lining a single to right in the second, Hall led off the fifth by poking another base hit to center and stole second, igniting a five-run frame. J.C. Escarra followed with his sixth homer to extend the IronBirds' lead to 4-0.
"Hall popped to first in the sixth but legged out an infield single in the eighth to register the first four-hit game of his career. He his 10 multi-hit games during the streak.
"For him to finish the season like this, it says a lot about the young man he is," Moore said. "He's decided not to give away at-bats at the end of the season and play until the very end. That says a lot about his work ethic and that he's serious about being a real pro."

Read More About