[Written by Angela Young]
Bishop Nicholas Dill, Mandy Ingham, Laura Mellor, Michelle Smith and Zina Darrell will be gracing the stage for the "Raising a BOSS" panel at KICS Live–The Conference.
KICS Live—The Conference is set to be held on September 1, 2018 at the Bermuda Underwater Exploration Institute, with the guest panel to be featured at the event to also include clinical psychologists, a psychiatrist, a graphic-designer-turned-teacher, a senior underwriter, an IT "Shero" and others.
KICS Live—The Conference will focus on the top five concerns facing parents today: Raising a BOSS, Decoding Gen-Z, Co-Parenting for Your Child's Success, Boys 2 Men and Daddy's Girl.
Due to the sensitivity of these topics, the conference is geared towards adults only. Doors open at 9:00 am and the panel discussions will kick off at 10:00 am through to 5:30 pm.
Tickets to KICS Live—The Conference can be purchased on the www.kicssystems.com as well as the full profiles of the event's guest panelists.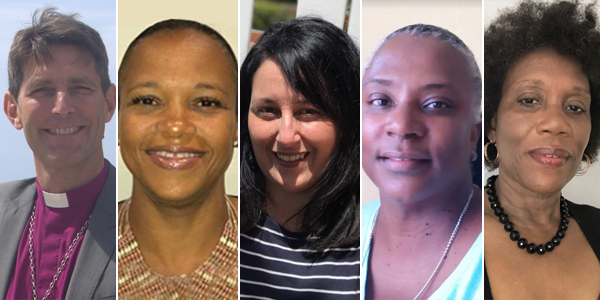 Over the next few days, we will highlight the 25 guest panelists. We kick off our first highlight with the "Raising a BOSS" panel below:
Bishop Nicholas Dill
Bishop Nick was born on Dock Hill, Devonshire in hurricane Arlene in the dark ages of 1963. Husband to Fiona, Father to six amazing children. A perpetual drain on his parent's patience and money, he did two degrees: Politics and History at University of Toronto and Law at the University of London. He practiced as a barrister in London and Bermuda, working at the firm founded by his grandfather, Conyers, Dill & Pearman.  During this time, he felt the call of God to offer himself for ministry in the church of God and found himself selected by the Anglican Church of Bermuda for training at Wycliffe Hall Theological College at the University of Oxford in England.  In February 2013 he was elected as the next Bishop of Bermuda. In May of the same year, he was consecrated in the Cathedral in Hamilton.
Mandy Ingham
Mandy Ingham is a registered nurse of 23 years; 18 of those as a Community Health Nurse with the Department of Health's Child Health Program where she provides care to both families and children. In 2006, she had the opportunity to travel with Dr. Tuzo, and her team of professionals to volunteer with the AHEAD Program, to Tanzania to assist with community projects.  This nurse's zeal for life is evident in her varied interests: African dance, paddle boarding, gardening, travelling, spending time with family, and trying new things; especially if it is an outdoor activity. Mandy is also the mother of Mustafa Ingham, a former member of the Red Bull Youth America's Cup in 2017,  and is now a certified sailor. The journey of this mother-son team is fascinating.
Laura Mellor
Laura Mellor is Bermudian born and has lived here all of her life.  Following her graduation from Mount Saint Agnes Academy, Laura decided to enter the work force immediately.  In fact, she worked for her family's business for several years before joining the [Re] Insurance industry. After meeting her  then future husband at work and getting married, it was decided that Laura would stay home to be there for their then four-year-old daughter and fourteen-year-old son who were at different stages of schooling.  While making the decision to leave the 'working world' was not an easy one, Laura believes she and her husband made the right decision.  It has allowed Laura to be available for her husband, her children, her parents as well as her extended family. She is successfully raising her children into independent and responsible young adults.  While she still has a teen in the house, her oldest has obtained both his Bachelor and Masters Degrees [with distinction] and is now living and working in the UK.
Michelle Smith
Michelle Smith leads a full and busy life.  She and her husband, Raynard, have been married for 19 years. They have 5 children: 3 boys and 2 girls ranging in age from 5 to 17 years old. Michelle is a trained counsellor and holds a Bachelor of Arts in Psychology and Sociology from St. Mary's University and she has a Masters in Education in Counselling Psychology from Howard University.  In spite of her counselling training, Michelle quickly admits that her passion lies within homeschooling her children. Yes, this "homeschool Mom" has taught all five of her children and her oldest daughter will be starting her sophomore year at Bermuda College.  If homeschooling is not enough, Michelle also assists her husband with the family business, Filter Queen Bermuda.
Zina Marie Darrell
Zina Marie Darrell is a member of Cornerstone Bible Fellowship.  She has been active in various ministries which include dance, music and theater and is a founding member of the Christian drama ministry "The Toni's" [aka – "Church Folk Make Me Laugh"].  Zina is also a founding Director of Transforming Lives, Fighting Poverty, a local charity which creates and funds projects to assist with the social, economic and the spiritual wellbeing of people in developing nations.  This corporate administrator has over 20 years of experience in offshore business.   Zina is also the single mother of one daughter, Kristen Darrell [aka "Kristen Alminta" one of Bermuda's up and coming actresses] and the daughter of Mrs. Pearl M. Caines.
Read More About