"As at March 31, 2016, the amount of payroll, hotel occupancy, corporate services and land taxes greater than 90 days in arrears was $90.6 million," according to the recently released Auditor General's report.
The report said, "As the unfunded liability increases, arrears of payroll and other taxes and pension contributions also continue to increase. Measures to reduce taxpayer indebtedness to Government have been largely unsuccessful.
"More effective collection of outstanding revenue by Government would help reduce the need for borrowing along with its associated finance costs.
"As at March 31, 2016, the amount of payroll, hotel occupancy, corporate services and land taxes greater than 90 days in arrears was $90.6 million compared to March 31, 2011, when the comparative amount owed was $46.3 million. Table 2 below shows Payroll, Hotel Occupancy, Corporate Services and Land Tax as at March 31 greater than 90 days in arrears: "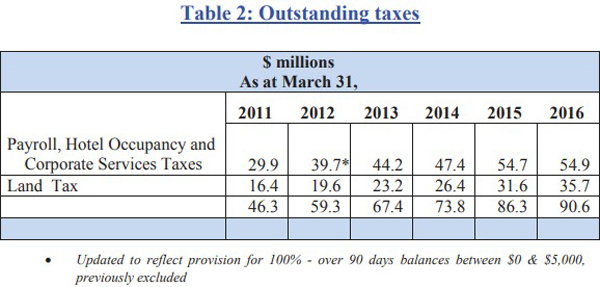 "In the previous report regarding the Consolidated Fund, it was recommended that Government should establish and communicate a plan to address taxpayer indebtedness. In its response, the Ministry of Finance agreed and indicated that the Government was looking at increasing resources in its Debt Enforcement Unit [DEU] to assist with debt collection as this was a high priority of Government.
"Whatever actions have been taken in the intervening years, Table 2 shows that they have not been successful. Accounts receivable of the Office of the Tax Commissioner have increased by $37.3 million [approximately 20.5%] over the five-year period ended March 31, 2016. The provision for doubtful accounts has increased over the same five year period by $43.5 million [approximately 114%].
In noting the Ministry of Finance Response, the report said, "Government continues to place a high priority on collecting outstanding pension contributions and taxes. Unfortunately due to the extended recession there are many small businesses that have struggled to meet their tax obligations in a timely fashion. This has resulted in some increases in the level of indebtedness to Government.
"Government will work with these businesses to make suitable arrangements. However, there are others who simply ignore their obligations. For this group, Government will continue to use all available means to collect overdue taxes, thereby improving Government's cash flow and reducing its need for borrowing.
"The Tax Commissioner have their own debt collection resources. The Tax Commissioner pursues taxpayers and once all efforts to collect receivables have been exhausted, the debt may be referred to the DEU of the Attorney-General's Chambers for Supreme Court Writs. The Government understands that increased cooperation and liaison between Government departments can be quite effective in increased tax compliance.
"Currently revenue collecting departments are supported by the various Departments who will withhold permits and vehicles where taxpayers are in arrears with taxes. Government has also used the offsetting provision in the legislation that allows Departments to claw back any monies due to taxpayers from Government [i.e. Works and Engineering contracts].
"Also, Departments have set up installment plans and have successfully progressed matters in the courts through the Department of Public Prosecutions. The Tax Commissioner, the Director of Department of Social Insurance and the Director of Public Prosecutions have held a series of meetings to address the situation of delinquent employers and unpaid Payroll Tax and Social Insurance Contributions.
"The Tax Commissioner and the Director of Social Insurance will start to forward employer files to the Director of Public Prosecutions for prosecuting employers, companies and individuals, for offences related to delinquent payments pursuant to their respective legislation.
"The Ministry recognizes that further action is required in order to facilitate the settlement of Government debt as a priority and will provide the appropriate resources required to meet this objective."
The Auditor General's Report follows below [PDF here]:
Read More About