'I'm a very fortunate fellow and have had a very exciting and illustrious career and I loved every bit of it,' the late C.V. Jim Woolridge said in an interview a few years ago.
The former Cabinet Minister and Member of Parliament, a legendary cricket commentator who was well known as the 'Voice of Summer,' passed away at the age of 92.
In paying tribute to the iconic Bermudian, Premier David Burt called him "a genuine public servant and a giant of this community," the Bermuda Cricket Board said it is a "sad day as we mourn the passing of a true legend," Opposition Leader Jeanne Atherden said "he was a great ambassador for the Island," while Minister of Economic Development & Tourism Jamahl Simmons said "Bermuda has lost one of our most admired and revered tourism ambassadors."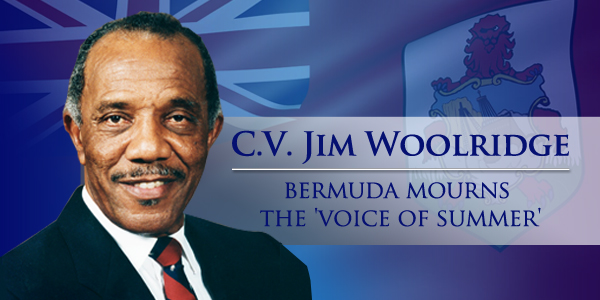 In a Voyage TV interview posted in 2010, Mr Woolridge said, "I'm a very fortunate fellow actually. I came from humble beginnings.
"But I did a number of other things, I was a bulldozer operator, I drove a truck, I was a waiter, I was a bartender, and of course in 1968, I became a Member of Parliament.
"I was a Member of Parliament for 33 years and during that period I was the Minister for Tourism for 14 years, Minister for Labour and Immigration, seven years, Minister for Works and Engineering, three years and the Deputy Premier for four years. So I had a very exciting and illustrious career. Loved every bit of it.
"I've said many times that anyone that didn't grow up with the benefit of a big family missed the joy of living. And, you know, my father was an unbelievable man. He used to tell, we guys, we wanted to get out and play cricket in the evening, if you're not here by 6:30, you won't eat.
"He didn't mean it, but what he did insist that we all sit down at the table because that's where he his forum. It wasn't uncommon, 9:30, 10:00 at night we're still sitting there, meanwhile, if some music came on the radio he was the first up to dance with one of my sisters. He was a marvelous man.
"Tourism was our main source of revenue," he explained. "1980 was my best year ever, for the island, there was 650,000 visitors.
"What did that give to us? It gave us one of the highest standards of living in the world. One of the highest per capita incomes in the world. And when you consider that we don't have sufficient soil to feed ourselves for three months, it says volumes.
Speaking on going to London, Mr Woolridge said, "I went to Buckingham Palace five years ago where I received my CBE. I am a Commander of the Order of the British Empire, for my services to tourism and to the country in general.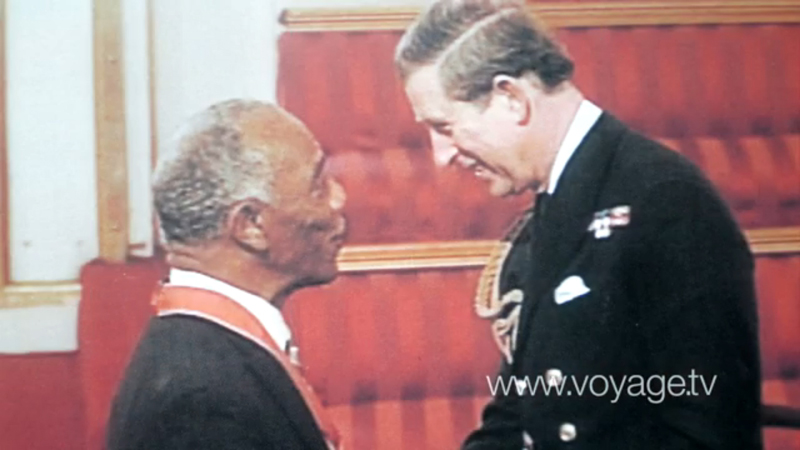 "And when I went to Buckingham Palace, I took my three granddaughters," he added.
"And I'll tell you, if you ever get the opportunity, when then knight you, don't let them send it by bus boy, but go to Buckingham Palace itself, because it's the most fabulous experience that you're to ever want to meet."
Speaking on cricket commentating, he said, "This is my 45th year of broadcasting cricket to the people of the island, I've enjoyed every bit of it and you know, interesting enough, but during that period when I first became a member of the Cabinet, it was one of the Cabinet Ministers said to me, 'Now that you're a Minister in the government, I hope you're not going to be doing those ridiculous cricket commentaries.'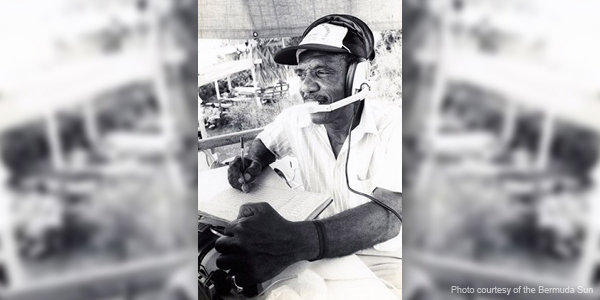 "And I said, 'Well, I beg to differ, I believe there are a lot of seniors out there who have helped to give us the good life though their contribution and sacrifice and they deserve to have this brought into their homes, the second, the shut-ins in the hospitals, but your point is well taken.'
"And I had the benefit of talking with my good friend Lord Martonmere, who is a great Governor and a wonderful man and he was a keen sportsman. I said, Lord Martonmere, you on the advice of the Premier appointed me to my high office and I wouldn't want to do anything to detract from it, but I've been told that I should be not be continuing with my cricket commentaries.
"He said, 'Jim had you not started it would be a mistake to start, but the fact that you do it, it would be a mistake to stop and who would I jolly well listen to?"

The Cabinet Office has advised that a Book of Condolence for public signing will be available at the Cabinet Office on Front Street between the hours of 10am and 4pm, from Thursday, 30th August, until the day before Mr. Woolridge's funeral.
Read More About