This morning [Sept 5] the Ministry of National Security advised that the Emergency Measures Organisation [EMO] is "closely monitoring the track of Hurricane Florence."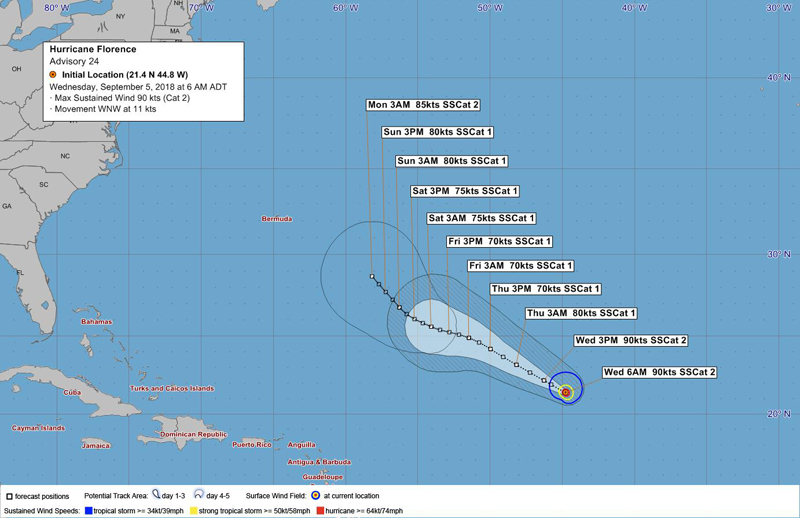 The Ministry said, "While the Bermuda Weather Service [BWS] notes that the storm's track will continue to fluctuate as the week progresses, the Ministry takes this opportunity to remind the public that Bermuda is in the midst of hurricane season [June 1 - Nov. 30], and encourages the public to use this opportunity to update their storm supply kits.
"The Ministry notes that the EMO is prepared and stands ready to convene should Hurricane Florence's forecasted track pose a threat to Bermuda.
"The Ministry also stressed that the public should adhere to official information from official sources regarding all public services, such as the EMO, the Ministry of National Security and the Department of Communications. As a note, the Emergency Broadcast Station on 100.1fm is operational. And for more information on this weather system, the public can visit www.weather.bm. The next update from the BWS on Florence's track will be at 12 noon.
"Lastly, as a reference, please note some of the storm preparedness tips below:
Securing homes and checking storm shutters. Finalizing any repairs around the house.
Having the necessary supply of batteries, including a backup battery / power supply for cell phones.
Having at least two weeks supply of medication for yourself, other family members or pets.
Updating first aid kits.
Checking gas canisters for use.
Having necessary unperishable food supplies in the house.
Have an analogue phone in case the power goes out
Have a radio that runs on batteries that can tune into the Emergency Radio Station 100.1fm"
Read More About