The Pomander Gate Tennis Club Open presented by Martini and Bacardi Seniors Cup tournaments ended at the weekend, with two first time winners laying claim to the trophies.
Former Bermuda Davis Cup player Jovan Jordan-Whitter, claimed his first local men's title after years of hovering amongst the top players and threatening to cash in on his potential. On the way to the title Jordan-Whitter dispatched Gavin Manders, the No 1 seed who was forced to retire due to injury.
In the final he overcame a fatigued Sam Butler, who hadn't yet fully recovered from his hard fought three-set semifinal win over Neal Towlson the night before. Jordan-Whitter used a creative mix of guile and consistency to outmaneuver his opponent 6-4, 6-2.
Of his victory in the Open presented by Martini, Jordan-Whitter said, "I'm excited and encouraged. It's the first of what will hopefully turn into a few more. I'd like to dedicate it to my recently passed father. He introduced me to the game. Without him none of this would've been possible."
Jovan Jordan-Whitter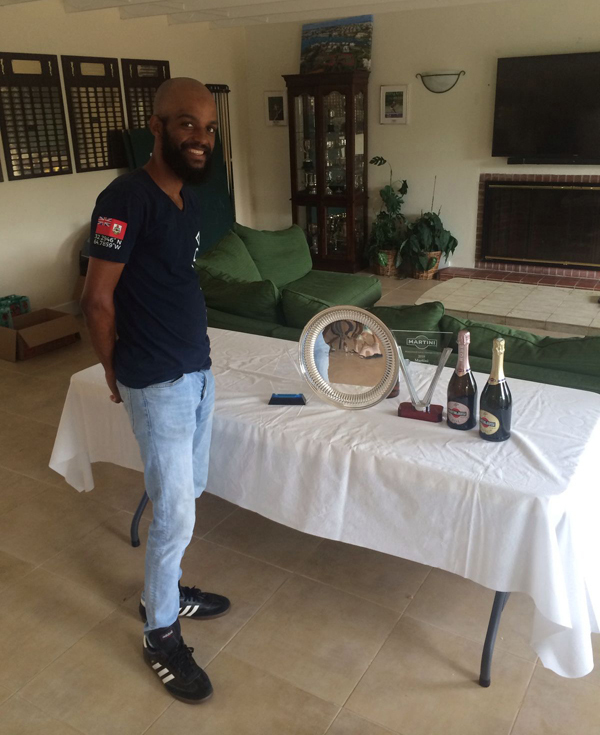 In the Bacardi Seniors Cup, Darion Thomas was victorious in each of the three events entered earning him a coveted Triple Crown.
Firing on all cylinders, he made quick work of Kelljon Evans in the men's Senior Singles final, running away with the title 6-0, 6-1.
After winning an event entered on a whim, Thomas said, "I was inspired by entering the last tournament at Fairmont Southampton and wanted to make a go at this one. It's even sweeter having beat the defending champ and No 1 seed – I was very pleased with my performance.
Thomas teamed up with Earl Leader to win the Super Senior Doubles, and then defended his Senior Doubles title with partner Steve Bean, to complete the trifecta.
The Senior Doubles title was decidedly 'bittersweet' after Thomas' former partner [Leader] incurred an injury mid-way through the first set.
Darion Thomas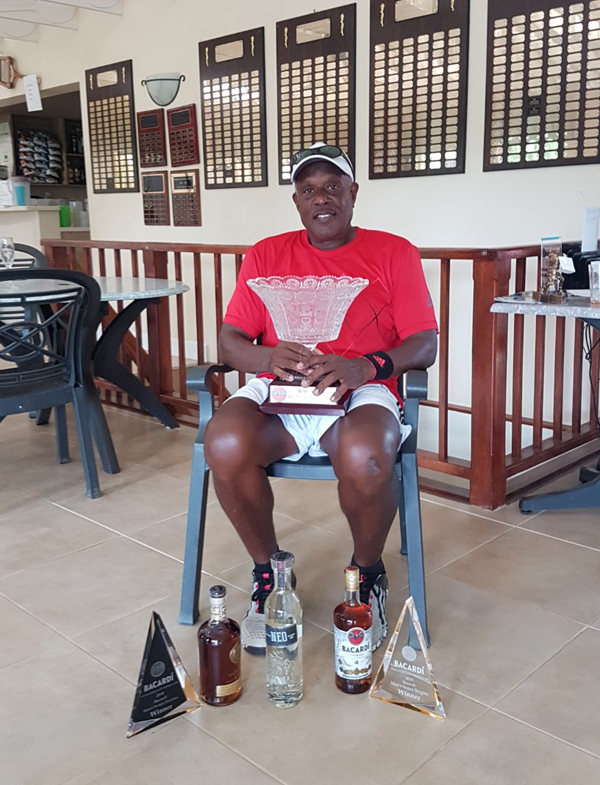 "It was unfortunate that he pulled up injured. You could see both teams working out tactics and the match was just beginning to heat up, so it was unfortunate because I wanted to see how the match would play out. All in all, you have to put yourself in a position to win, and I'm very proud to have done that in three events," said Thomas.
The tournament, sponsored by Bacardi Limited [headquartered in Bermuda], has historically been an event limited to seniors.
David Thomas, Pomander Gate's Marketing and Communications Officer said, "Bacardi has been fantastic to work with and the Club is really grateful for the continued sponsorship of this event. We revamped the tournament last year to include an open category to encourage more participation, and we've seen that."
Thomas, who teamed with Jordan-Whitter to finish as runners-up in the Open Doubles event concluded, "I've been a bit banged up for the last few months, but with limited opportunities to play for local titles I know I'm not alone in looking ahead in trying to put my stamp on this tournament next year. I'm extremely proud of my uncle [Darion Thomas] who just won a triple crown. Hopefully we can both celebrate winning titles in 2019!"

Read More About