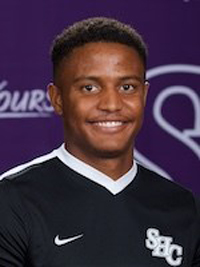 Bermuda's Judah Chapman scored for Spring Hill College as they recorded a 2-0 victory against Flagler College.
The school's match report said, "The Spring Hill College [SHC] men's soccer team opened its NCAA Division II regular season era with a 2-0 win over Flagler College Friday evening.
"Both teams felt each other out over the start of first half by trading scoring opportunities. As the period progressed, the Badgers began to control the pace of play and created multiple chances on goal. Both Matt Moreno and Alex Lipinski had excellent scoring opportunities turned aside by the Flagler goalkeeper that kept the score tied at 0-0 going into intermission.
"Spring Hill finally broke the ice in the 54th minute when Cyril Giraud drove a shot in from the right corner off an assist from Timo Schabetsberger.
"The Badger offense quickly struck again in the 57th minute as Judah Chapman defeated the Flagler goalkeeper after receiving a nice entry pass from Alex Lipinski. The Badgers played inspired defense the rest of the way to preserve the 2-0 season opening victory.
"Spring Hill out shot Flagler 16-10 overall with 7 shots coming on goal versus only 2 shots on goal for Flagler. Spring Hill also led in corner kicks 13-7. Defensively, SHC goalkeeper Alessandro Erdelyi made 2 saves against 10 Flagler shot attempts to earn his first career shutout.
"It was good team performance," said Head Coach Steve Wieczorek. "I was delighted to see us taking what we worked on in pre-season into the first match and getting a positive result."
"I am excited to get back at it on Sunday against a terrific opponent in Tampa," Coach Wieczorek added.
"The Badgers [1-0, 0-0 GSC] will next travel to Tampa, FL to take on #23 University of Tampa on Sunday, September 2nd at 3:00 p.m. [EST]."

Read More About