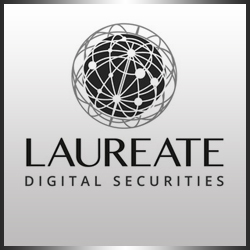 Laureate Digital Securities – a new company which describes itself as a "fintech company which integrates blockchain technologies with the asset management industry" — announced the establishment of its global headquarters in Bermuda.
The announcement on their website stated, "Laureate Digital chose Bermuda because the country has instituted the world's most robust legislation to govern the creation and trading of digital securities and sets high regulatory standards for companies operating in the financial technology industry."
"Laureate Digital also announced the acquisition of MESH OTC, a decentralized over-the-counter [OTC] derivatives exchange initiative powered by blockchain. As part of the acquisition, MESH OTC's CEO and co-Founder, Martin Wörner, is joining Laureate Digital's leadership team as Chief Technology Officer.
"Laureate Digital has been building out its business by working with those who share the Laureate vision that blockchain will completely disrupt the asset management industry," said Nicole Biernat, President and Chief Operating Officer of Laureate Digital.
"We are enabling this shift and Bermuda is the leading jurisdiction for this confluence. The acquisition of MESH OTC made it possible for us to bring their CEO on board. Martin's work has been at the forefront of the marriage of capital markets and blockchain, and we are beyond pleased to have him."
"At Laureate Digital, we strongly believe that the days of paper-based subscription forms and confirmation letters from administrators will come to an end, and secondary market trading in blockchain-based securitized funds will be the norm," said Wörner. "I'm delighted to join the company and help to position Laureate Digital on the vanguard of this transformation."
"We are pleased to welcome Laureate Digital to Bermuda," said Sean Moran, Interim CEO of the Bermuda Business Development Agency.
"Our agency's concierge service has assisted the Laureate Digital team with its due diligence, providing information on our jurisdiction's laws and regulations, as well as introductions to law firms, administrators, directors, and other service providers with whom they have partnered in this venture.
"We're particularly excited that such an innovative company has chosen Bermuda as its global headquarters at a time when we are building a world-class platform for digital asset businesses. Laureate Digital is the first start-up to merge asset management and blockchain technology in this way, and it signals an evolution for the funds industry."

Read More About
Category: All, Business, technology