[Updated] The Bermuda Tourism Authority [BTA] and the Bermuda Ball Hockey Association are holding a press event this afternoon [Sept 26] to officially launch the World Masters Ball Hockey Championships.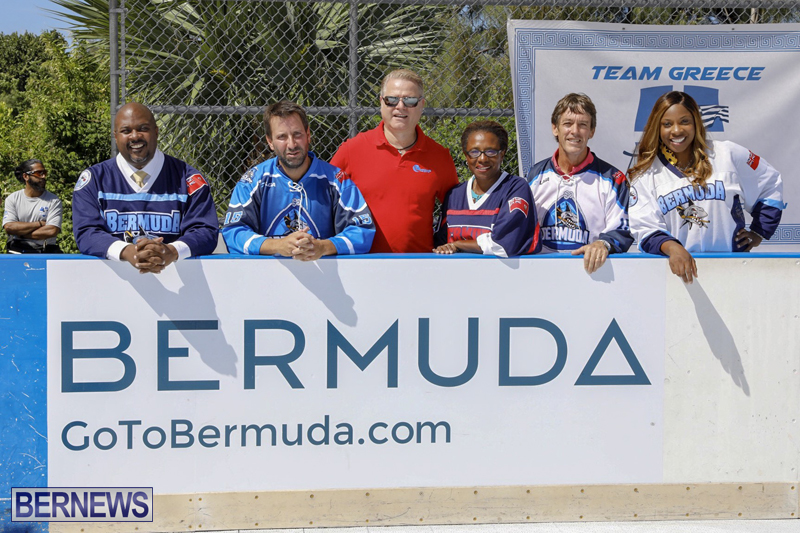 The tournament is taking place this week with 17 teams from 9 countries competing, with five women's teams and twelve men's teams taking part, with teams from Austria, Canada, Czech Republic, Greece, Italy, Portugal, Slovakia, the USA and Bermuda, with the Bermuda team starting off on a great note, recording a 3-2 win over the Czech Republic last night.
Update: The live broadcast has concluded and the 12-minute replay is below
Update September 27, 1.23pm: Speaking yesterday, Minister of Economic Development and Tourism Jamahl Simmons said, "On behalf of the Ministry of Economic Development and Tourism, it gives me great pleasure to welcome you to Bermuda for the World Masters Championship.
"As the Minister of Tourism, I am delighted to welcome the participants, coaches, guest and international media to our beautiful island home.
"Bermuda is pleased to play host to this international event that has been held bi-annually since 2001. This is an exciting opportunity for Bermuda Ball Hockey Association [BBHA], the Bermuda Tourism Authority and the many sponsors and supporters of this event.
"Let me commend the BBHA who rose to the challenge to host World Master Championship in Bermuda this year. We are grateful for their determination and efforts to bring a world-class event to Bermuda. And, as has been mentioned, this is the first time much of the tournament will be played outdoors.
"In collaboration with the International Street and Ball Hockey Association, Bermuda will stage the first-ever international ball hockey event at the Pembroke Community Club and the Oracle facility in Dockyard. Participants and visitors will have an opportunity while on islands to travel from both venues while taking in the beauty and hospitality Bermuda has to offer.
"As we begin the next chapter of the National Tourism Plan, it is important that we engage in on-island experiences to expand our sports tourism market. Working along with the BTA and sports bodies such as BBHA, Government is keen on ensuring that Bermuda is a feasible and logistically accessible destination for sporting tournaments. We will work along with the various sports organization to continue the work done already to bring schools, universities and professional teams to the island for tournaments and training.
"This year, Bermuda has already shown that we can punch well above our weight by hosting the ITU World Triathlon Series. We want to keep this trends going and that's why we are pleased to support the World Masters Championship this week.
"Sports brings people together! This tournament will do just that for all involved -the athletes, fans, volunteers and spectators. We are glad you are here and we hope you have a safe and successful tournament."

Read More About