Digicel & BTCs longest standing employee in the history of the company to date, Shervin Dill, has announced his retirement from the company after 48 years of service, having started with the company in 1970.
Having started as an apprentice in BTC, Mr Dill worked in every department where he developed a full understanding of what was required of each division. This knowledge awarded him the opportunity to be a fulltime a residential phone installer and repairman.
His skill and passion saw him advance quickly within the company and in 1980 he was promoted to Supervisor of Special Services, a position he held for over 25 years. Since BTC merged with Digicel, Mr Dill worked in the Service Delivery department where he was responsible for the day-to-day coordination of delivery activities between the company and its commercial customers.
Over his career, Mr Dill has seen major developments in technology and he was involved in the change from residential party line services to single line services, which meant having to visit numerous homes in Bermuda to reconfigure telephone lines, and he was also part of the Digicel team responsible for upgrading the cell sites to provide customers with LTE.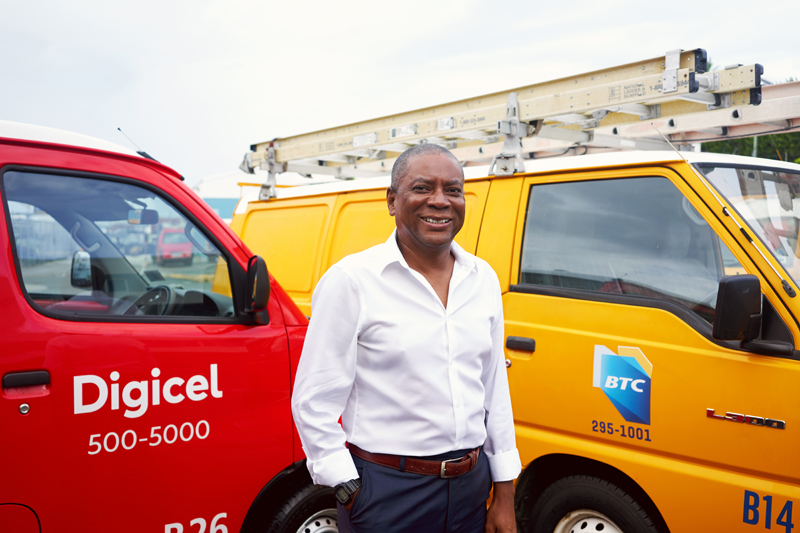 "I was straight out of BDA Technical Institute when I started at BTC in 1970 and it was a proud moment for me because I felt it was an excellent opportunity for me to have a lifetime career in telecommunications," he said.
"My career at BTC, and now Digicel & BTC, has been an awesome and rewarding life journey. As a member of the team I feel that I have been an integral part of the evolution of telecommunications, networking all of Bermuda both locally and internationally to the world.
"Telecoms has evolved in Bermuda from the days of residential party lines and low speed data to unbelievable high speed network connectivity and communications. Add mobile data to the list and it has revolutionized technology.
"With the investment Digicel has made in the fibre network in Bermuda, and as we transition from our legacy copper to fibre, the future looks bright for us all as we are now globally positioned for all of Bermuda to keep up with the demand and benefit from the best in high speed communications," he added.
Chris Wright, Head of Operations Digicel & BTC, said, "Shervin Dill represents what we all aspire to in terms of career, community and family. He has the ability to make everyone around him feel important and valuable, from customers to colleagues and even competitors.
"He accomplished so much through other people both professionally and personally which is the mark of a great leader and he dispelled the myth that you could not be well liked by your teams if you were a great manager. He's left a lasting legacy of how employees of the company should perform."
Read More About
Category: All, Business, News, technology