On the eve of its 2018 Annual General Meeting, Stevedoring Services Limited [SSL] unveiled its 2018 SSL Education Awardees, intended for "children of SSL employees pursuing higher education, renewable each year."
A spokesperson said, "This year each of the three candidates received renewal of their 2017 education awards.
"The 2018 Education Award fund of $7,500 was split equally between three sterling applicants. Polaris Holding Company Chairman, Cheryl Hayward-Chew, met the three awardees, congratulated them and their parents on behalf of the company and presented them with their 2018 funding."
Polaris Holding Company Chairman Cheryl Hayward-Chew, Tahj Fox, Joshua Butler, father of Jaché Butler, Etteleon Burchall and her mother Noelette Burchall [Roderick Cox, Tahj Cox's father, is not pictured]: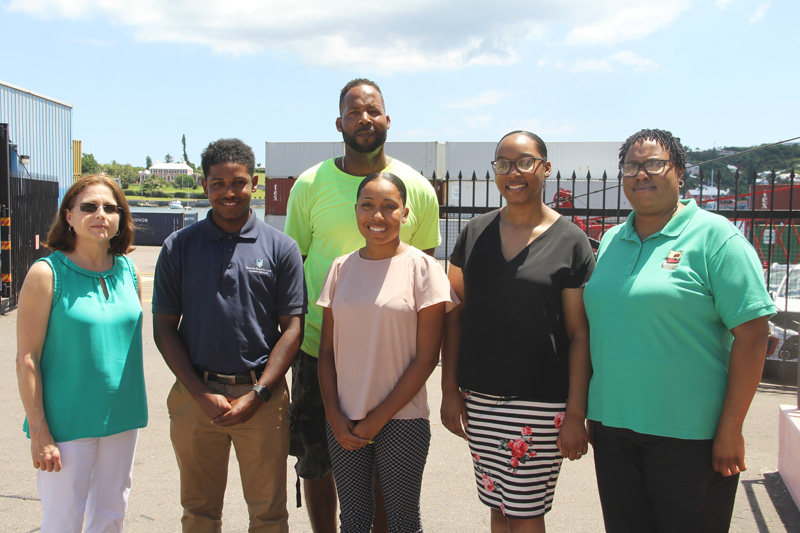 Ms. Hayward-Chew said, "We are building a better Bermuda workforce through our staff training and education. There is a family atmosphere at Stevedoring Services, so it is important for us to extend that philosophy to be a part of our employees family's training and education too. We are happy to be supporting these students in their 2018-2019 school year."
Roderick Cox joins his son, a 2018 SSL Awardee, as he is congratulated on the award by Chairman Cheryl Hayward-Chew: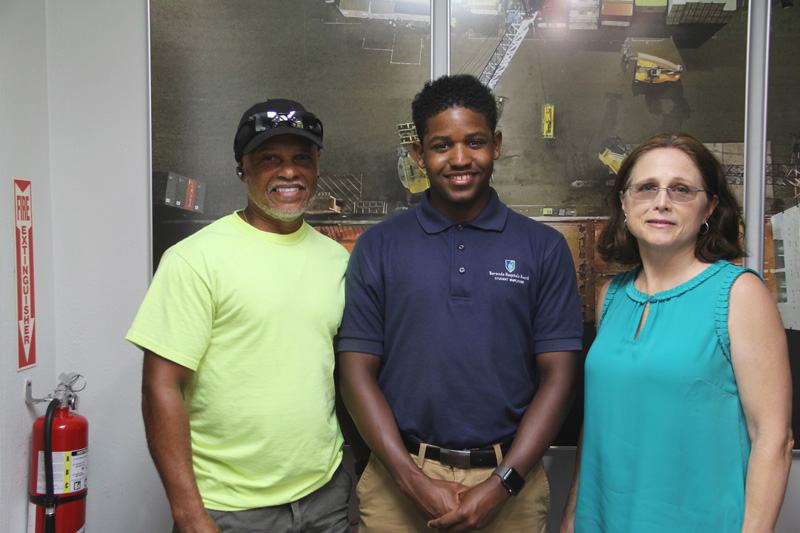 "Etteleon Burchall [Spelman College Junior Year - PreMed Major] is the daughter of Senior Accountant Noelette Burchall. Etteleon will receive $2,500 towards her education expenses and received $2,160 in 2017 and is entering her third year at Spelman College as a Biology Major.
"Tahj Cox [Dalhousie University 3rd Year - Double Major: NeuroScience & Biology] is the son of Mr. Roderick Cox. Tahj is entering his third year at Dalhousie University. He will receive $2,500 for 2018 and received $2,160 in 2017.
"Jaché Butler [Bermuda College Final Year - Education] is the daughter of Holdman Mr. Joshua Butler. Jaché is entering her second year at the Bermuda College, studying to be a teacher. She will receive $2,500 for 2018 and received $1,500 in 2017 and has her sights set on becoming a high school history teacher."
Recipients Tahj Cox, Jache Butler and Etteleon Burchall with Chairman Cheryl Hayward-Chew and CEO Warren Jones: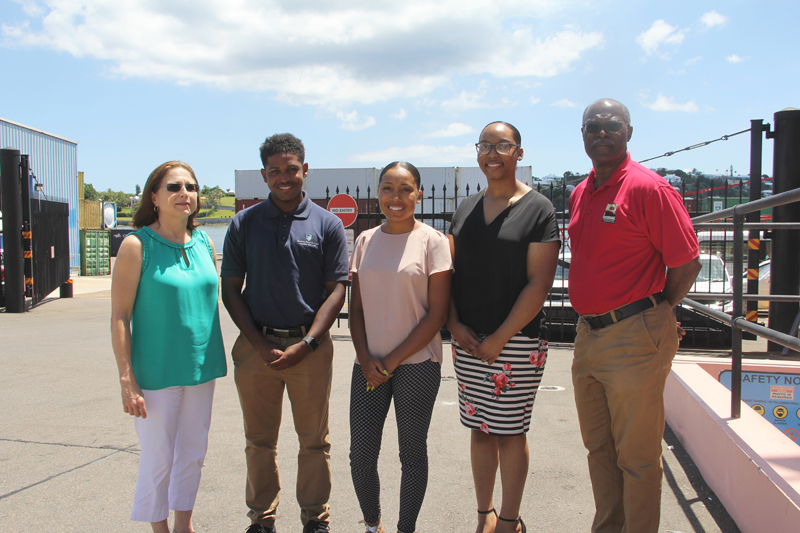 Read More About