According to the 2018 Q1 Quarterly Bulletin of Statistics, imports decreased 9.8%, employment income decreased 1.6%, and the Island hosted 40,325 air visitors during the first quarter of 2018, an increase of 9.7% year-over-year.
Imports
The report said, "Imports decreased 9.8 per cent to $224.4 million. The value of imports was lower for six of the nine commodity groups. The largest decrease was recorded in the Finished Equipment commodity group which fell $8.6 million due to fewer imports of medical equipment and computer & office equipment. Imports of Machinery decreased $7.9 million due largely to a decline in industrial machinery. Transport Equipment declined $5.6 million with lower imports of boats and automobiles. The commodity group of Food, Beverages & Tobacco dipped $1.3 million while Chemicals decreased $1.2 million.
"Imports from the United States of America contracted $25.6 million while imports from the All Other Countries category declined $11.2 million. Imports from the United Kingdom experienced a marginal decline of $0.7 million. In contrast, imports from the Caribbean increased $8.0 million while imports from Canada were $5.0 million higher year-over-year.
Chart extracted from the report: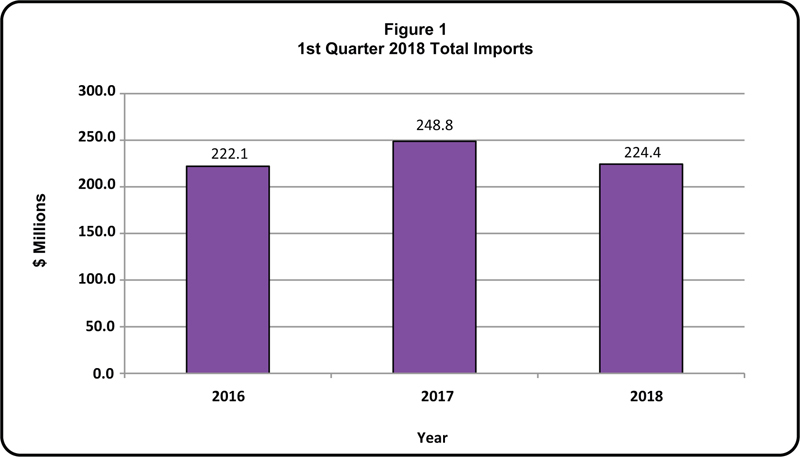 Employment Income by Industry
The report said, "Employment income decreased 1.6 per cent or $15.5 million. The International Business sector recorded the largest nominal decrease in remuneration of $24.5 million, due largely to declines in bonuses and stock options. Among other industries, the All Other sector and the Wholesale & Retail sector recorded declines of $3.3 million and $2.1 million, respectively. Remuneration for workers in the Business Services sector and Hotels & Restaurants sector decreased by less than $1 million each. In contrast, employment income in the Public Administration & Defence sector increased $7.1 million while the Banking, Insurance & Real Estate sector increased $4.7 million. The Transport & Communication sector and the Construction sector also recorded increases in employment income of $1.9 million and $1.7 million, respectively.
Arrivals and Expenditure
"The Island hosted 40,325 air visitors during the first quarter of 2018, an increase of 9.7 per cent year-over-year. Estimated total expenditure by air visitors increased 13.2 per cent to $51.6 million when compared to the same period of 2017. Visitors spent $4.4 million more on Accommodation and Food, while expenditure on Shopping, Entertainment and Transport, etc. was $1.6 million higher.
"A total of five cruise ships visited the Island carrying 4,687 passengers. Total expenditure for these passengers was estimated at $0.5 million. In comparison, an estimated $1.1 million was spent by 9,282 cruise visitors, on nine cruise ships, during the same period in 2017.
Chart extracted from the report: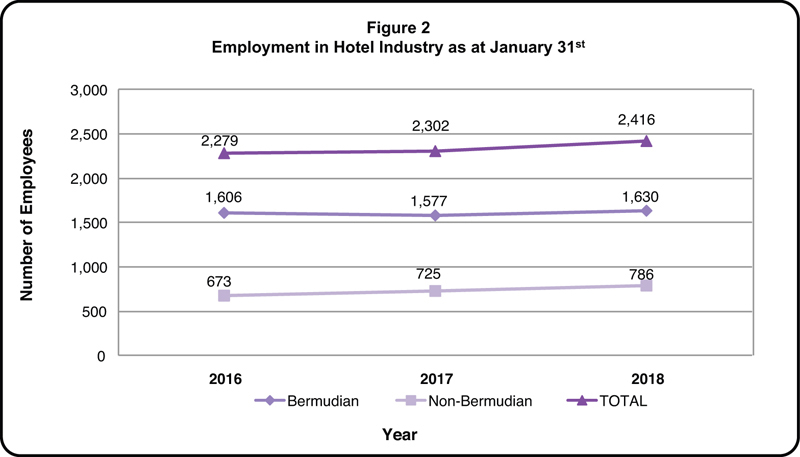 Hotel Accommodations
"At the end of January 2018, there were 2,416 workers employed within the hotel industry. The level of employment increased by 114 employees, representing 53 more Bermudians and 61 additional non-Bermudians.
"Hotel gross receipts totaled $43.3 million for the first quarter 2018, down 6.4 per cent or $3.0 million. Declines in alcohol sales and other non-food sales were the main contributors to the fall in receipts compared to last year."
The full Quarterly Bulletin of Statistics follows below [PDF here]:
Read More About