[Updated] The patients of Bermuda HealthCare Services [BHCS] said they "remain extremely concerned that after twenty months their medical files that were removed from the clinic by the Police during a raid last February, have still not been returned."
The patients indicated that they "are up in arms" as they have been informed that the Bermuda Police Service may be "attempting to examine their records without their permission."
"This is a gross breach of confidentiality," said Dr. Mahesh Reddy, Chief Medical Director of BHCS. "The information contained in those medical files is intended only for the patients' physicians, not the Bermuda Police Service".
Boxes being removed from the clinic by the police last February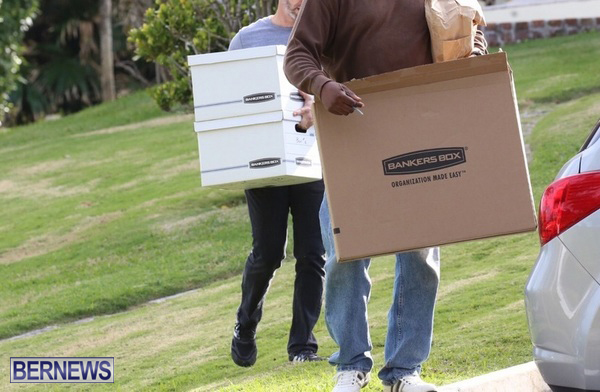 Spokesperson for BHCS' patients, Ms. Wilma Fubler, said that "from what she has been able to ascertain, the matter with BHCS began seven years ago with an allegation of corruption by BHCS's founder, Dr. Ewart Brown, in July of 2011."
"It was long after his retirement from politics that the inquisition into Dr. Brown shifted to BHCS and Brown-Darrell Clinic, another business owned by Dr. Brown," the statement noted.
"Thus far, the Bermuda Police Service's investigation into Dr. Brown has caused the Bermuda taxpayer in excess of $5 million which includes the Lahey lawsuit brought by the former Attorney General, Trevor Moniz. That suit was dismissed by a Massachusetts court earlier this year
"We, the patients are calling on the government to protect our right to confidentiality," Ms. Fubler said.
The patients of Bermuda HealthCare Services are being represented by lawyer, Mark Pettingill and patients with questions should contact him or Dr. Reddy directly at 236-2810.
Update 10.42am: The police said, ""As this matter remains under investigation, no further comment can be made at this time."

Read More About