The start of the school year has BFIS making presentations to senior year students in all the high schools, both public and private, to encourage students to see the possibilities of the myriad of careers within the insurance sector.
This year the newly-formed BFIS Schools Outreach Committee, who are almost all BFIS Alumni, has taken on this programme with members responsible for liaising directly with the career counsellors of their former high-school.
BHS IB1 and IB2students with BFIS presenters Tyler Kerr and Stacy Thakur.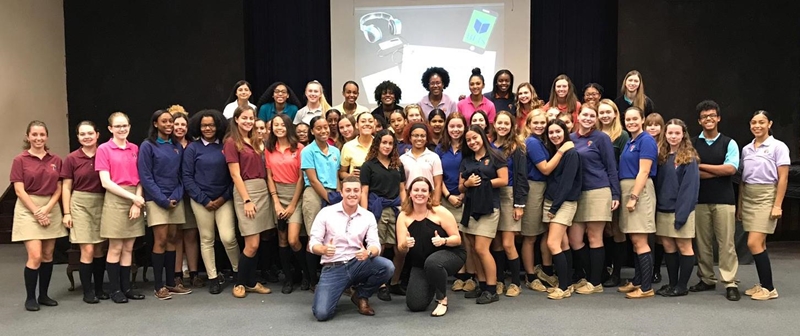 The first presentation by Stacy Thakur [BFIS Scholar 2008] and Tyler Kerr [BFIS Scholar 2014] to Bermuda High School IB1 and IB2 students was very well received with excellent feedback.
One person said, "Stacy made the students really see the opportunities and network of support BFIS provides and engaged the students with her enthusiasm! Tyler and Stacy really connected with the students. Tyler having been an IB student and having attended Western, also connected well with the students and inspired them to see that many career opportunities and college paths can lead to working in the insurance field."
The presentations are followed up with 'Lunch and Learns' for students who want to find out more about careers within the insurance sector that might match up with what they plan to study at college.
Further career information and networking opportunities will take place in February 2019 at BFIS Speed Networking Lunches which give high school students the opportunities to meet with professionals one-on-one.
Three different sessions are held highlighting a variety of insurance industry careers including Law, Computer Science and Actuarial Science; Accounting and Finance; and Underwriting, Broking and Claims.
Read More About
Category: All