Elizabeth Blankendal is the latest young Bermudian lawyer to be Called to the Bar. The ceremony took place at the Supreme Court on Friday before Chief Justice Narinder Hargun.
Ms Blankendal has recently completed a year of pupillage at Conyers Dill & Pearman, where she is now working as a newly-qualified associate in the corporate department.
In front of family, friends and colleagues, Ms Blankendal thanked her parents for their unreserved support, her 'pupil masters' at Conyers and the five people she credits as being her key mentors: Conyers Director Sophia Greaves, Kimberley Caines-Best of HSBC, Christa Schweizer of Ascendant Group, Barclay Simmons of ASW Law and Wanda Armstrong of KPMG.
"The guidance from people experienced in the industry was really helpful and has made my progression to this point very smooth," she said.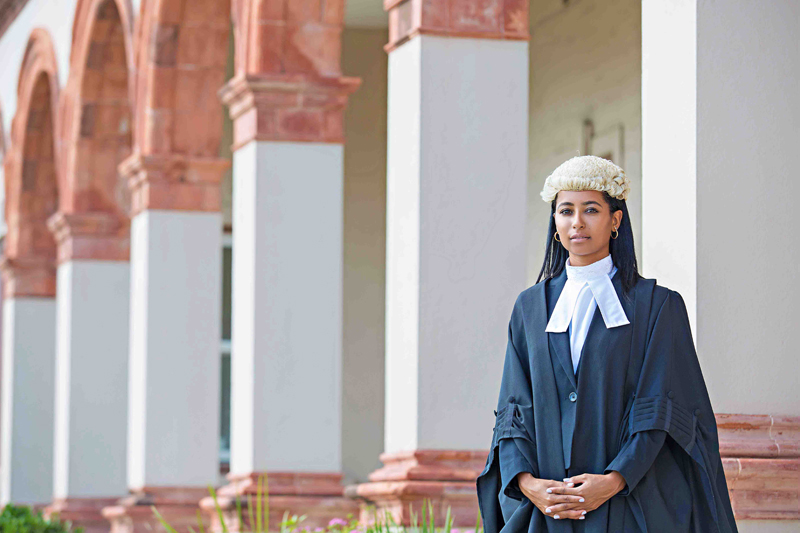 "We are very pleased to welcome Elizabeth as an associate at our firm and we congratulate her for reaching this milestone in her career," said Sophia Greaves. "Elizabeth is a talented, young Bermudian woman. I have no doubt we can expect great things from her in the future."
Ms Blankendal recalls at age 10 wanting to be a paediatrician, but a career in law began to appeal when she found she did not really enjoy science. She left Berkeley Institute at age 16 to do A-levels in the UK and went on to obtain her law degree at University of Bristol in 2016.
Having worked as a legal intern at various local firms in her summer vacations, experiencing family, criminal and corporate practices, she determined that corporate and commercial law was the best fit for her.
After completing a postgraduate diploma in law at BPP University in Bristol in 2017, she joined Conyers' pupillage program.
"After six years in the UK, I'd had enough of the climate," she joked. "I was lucky to be able to join the top firm in Bermuda where I could get exposure to high quality work without remaining in dreary London weather."
During the past year, she has completed four-month rotations in Conyers' Corporate, Litigation and Private Client & Trusts departments where she has had the opportunity to work on a variety of corporate and commercial transactions under the guidance of directors Chiara Nannini, Ben Adamson, Stephanie Bernard and Karen Corless.
She says her next challenge is to complete a Master's of Business to expand her skill set and better engage with clients.
Read More About