EY will be hosting their annual Global [Re]Insurance Outlook in Bermuda on November 29, in conjunction with Re-insurance.com.
The event will bring together over 300 insurance executives, subject matter experts and stakeholders for a half-day discussion on emerging trends and leading practices in the [re]insurance industry.
The summit will provide a global platform for the leading voices of the insurance industry, through keynote presentations, panels, audience Q&As and participation through technology.
This year's keynote Michael Millette, Founder and Managing Partner of Hudson Structured Capital Management, commented, "We are experiencing immense change in the industry, so it's more important than ever to sit down and talk about what's going well and where we could all focus our efforts. I'm looking forward to discussions with the other industry leaders."
EY insurance and innovation leaders: Jessel Mendes, Edie Jaworski, David Brown, Chris Maiato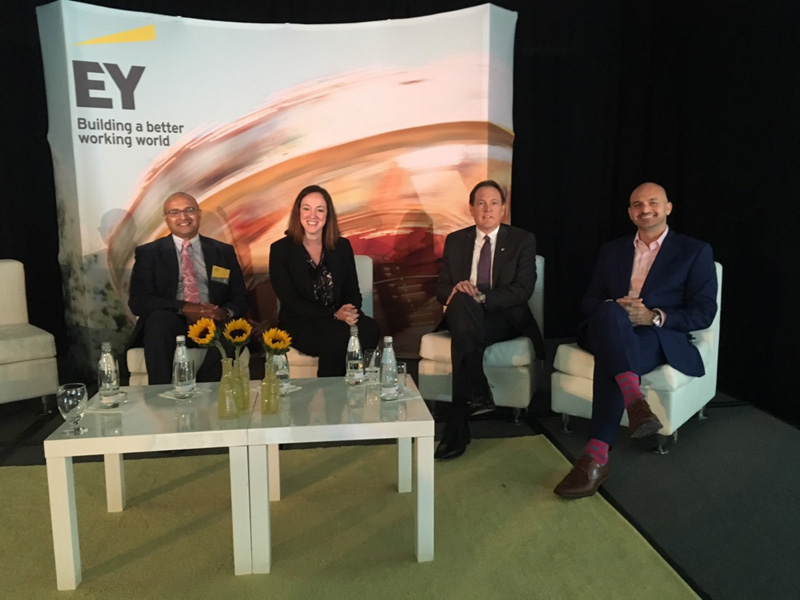 EY said, "As macroeconomic, social and regulatory trends challenge insurers, disruptive technologies are game-changers and present opportunities.
"The "Leading the Digital Revolution" panel will discuss the latest trends, strategies, and the impact of InsurTech, Blockchain and Fintech on the global insurance sector, with a particular focus on the specialty and [re]insurance classes. EY Global Insurance leader David Hollander will join this panel and offer his views on how emerging digital technologies will disrupt the [re]insurance industry."
The second panel will discuss the state of the [re]insurance industry and other factors impacting the industry such as M&A activity, technology and the focus on diversity and the future of work.
Fiona Luck, Lloyds of London Franchise Board Member, commented: "Bermuda is the perfect place to have this conversation, with its focus on financial technologies and innovation. I'm thrilled to take part in these thought-provoking discussions."
"We look forward to our Global [Re]Insurance Outlook which we have been hosting for many years," said David Brown, Senior Partner and Insurance Leader for the EY Region of Bahamas, Bermuda, British Virgin Islands and Cayman Islands.
"Bermuda is uniquely positioned at the epicenter of the global [re]insurance space. We have gathered an impressive group of leaders to share insights and facilitate an engaging discussion on where we're going as an industry."
Other industry leaders who will participate on various panels include Ryan Mather, Head of Reinsurance, Argo Group; John Huff, CEO of ABIR; Patrick Tannock, CEO Bermuda of Axa XL; Helene Stanway,Digital Leader, Axa XL; Magdalena Ramada Sarasola, Senior Economist, Willis Towers Watson; Eric Gesick, Group Chief Underwriting Officer, Axis Group.
The event, which is specifically geared towards the insurance industry c-suite, board, and executives, will take place on Nov. 29, 2018 at the Hamilton Princess in Bermuda. For more information, please contact ey@bm.ey.com.
Read More About