OBA Leader Craig Cannonier and Deputy OBA Leader Leah Scott are speaking with Bernews this afternoon [Oct 10], sitting down for a live interview with journalist Don Burgess.
Mr Cannonier, who previously led the Party stepping down amidst the 'JetGate' matter back in 2014, returned to the leadership position after Jeanne Atherden was "invited" to resign last month, with eight of the eleven OBA MPs having expressed their support for Mr Cannonier.
After being appointed as OBA Leader, Mr Cannonier said, "The time has come for the OBA to stand as a party in its own right. While we cannot, and should not, ignore past successes, the OBA has to change course and carry on what it started in 2012.
"This OBA will be the Loyal Opposition that our country needs and, in time, we will be the Government that our country expects," Mr Cannonier added.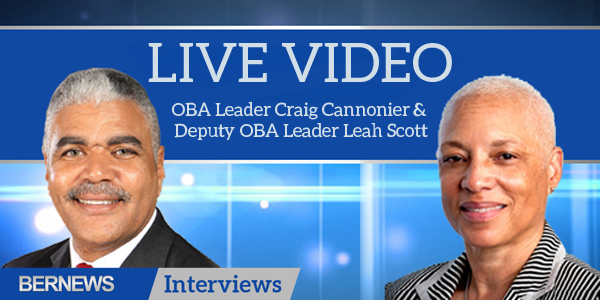 Mr Cannonier just announced a new Shadow Cabinet which he said "serves to emphasise the One Bermuda Alliance's change in course," with the new format seeing Trevor Moniz, Jeanne Atherden and Michael Dunkley no longer serve in the Shadow Cabinet.
Scott Pearman was named Shadow Minister of Legal Affairs replacing Mr Moniz, Nick Kempe was announced as the new Shadow Finance Minister replacing Ms Atherden, and Ben Smith added National Security, while also keeping Social Development and Sports, replacing Michael Dunkley.
The changes to the Shadow Cabinet were the latest in a series of changes for the OBA. The party also recently changed their Chairperson, with Justin Mathias resigning and being replaced by Simone Barton, and Mr Cannonier also announced a new Senate Leader, with Nick Kempe returning to the Senate.
Update: The live broadcast has concluded and the 32-minute replay is below
Read More About