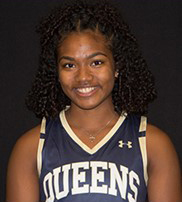 Bermuda's Maha Clarke scored for the Queens University of Charlotte field hockey team as they recorded a 4 – 3 loss against Coker College.
The school's match report said, "The Queens University of Charlotte field hockey team suffered its first South Atlantic Conference Carolinas loss this evening falling 4-3 at Coker College.
"Mazvita Mtisi led the Royals with three shots, two coming on goal. She also recorded a goal along with Millie Eaton-Jones and Maha Clarke. Jet van den Berg tallied two saves in the loss.
"After Eaton-Jones got the Royals going with a goal in just the second minute of action, Coker responded in the seventh to tie the game at 1-1. The Cobras then added two more goals to their total to move in front 3-1 before Mtisi found the back of the cage to close the gap to one, 3-2, heading into the halftime break.
"Queens continued to trail by one in the second half until Coker was able to score again in the 50th to increase its lead back to two, 4-2. A goal from Clarke in the 54th followed to close the gap to one, but that was as close as the Royals would get to tying things up again despite earning three penalty corners in the remaining minutes of regulation."
"Queens will look to bounce back at No. 10 Limestone on Sunday, October 21. The game is slated to begin at 1 p.m. The Saints swept the Royals in last season's home-and-home series."

Read More About